The festive production, starring Bloodlands' James Nesbitt and award-winning English actor Timothy Spall, was shot in Abbeytown Square.
A spokesperson for Antrim and Newtownabbey Borough Council said: "Filming for the new Sky production took place last week creating much excitement for the local residents.
"The Christmas comedy-drama 'Joy to the World' is based around the story of 12-year-old Micky Collins and two Santa Clauses – one who is on the run having just robbed a bank and the other has fallen from his sleigh.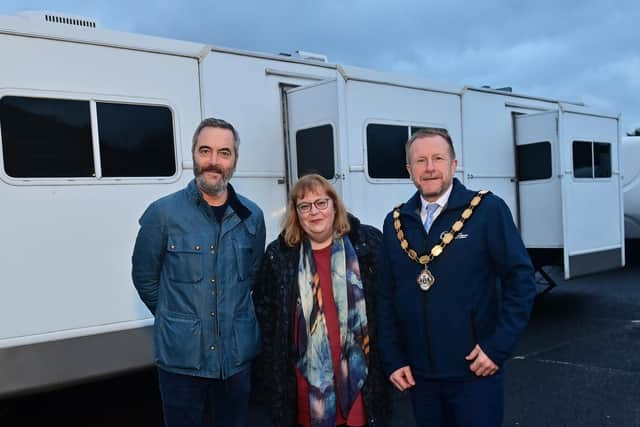 "After stumbling on the two characters, Micky desperately wants to get his hands on the bank robbing Santa's cash to give his family the Christmas they have always dreamed off. Does he get away with it?"
Commenting on the production, Mayor of Antrim and Newtownabbey Alderman Stephen Ross said: "It is great to welcome this Sky production to our borough. Filming in Northern Ireland as a whole has really taken off over the last number of years and for Monkstown to be part of this prestigious production is a great boost for the local residents."
Cllr Mark Cooper BEM, vice-chair of Monkstown Jubilee Centre who has worked closely with the TV crew during the filming added: "I am delighted that Monkstown was chosen as the location for this new Christmas drama and I look forward to seeing the final production when it hits our screens later this year."