Lisburn optometrist has World Record in sight at London Marathon
A Lisburn Optometrist is putting his best foot forward ahead of the London Marathon on Sunday April 23.
Daniel Gallagher, who works at the Specsavers store in Lisburn, said: "I'm really looking forward to taking part in such a big event, for such a worthy cause.
"Alzheimer's Research UK is the UK's leading Alzheimer's research charity, with a mission to bring about the first life-changing dementia treatment by 2025.
"My Granny was 95 when she passed away in October, but she suffered with dementia for the last five years of her life. Her short-term memory was affected, and it was hard for our family, so I was really keen to fundraise towards treatment and eventually a cure, and to do it in her memory."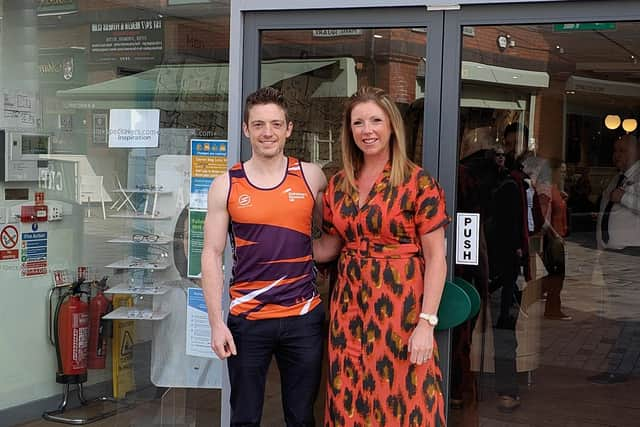 A keen runner with seven marathons already under his belt, Daniel has focused his training in the last 12 weeks to get himself ready to line out in London.
"I feel like I know how to train for a marathon by now, so the last few weeks have been spent tapering my runs and mainly looking forward to it.
"There are always some nerves in the morning and even the night before – mainly about making it to the starting line on time – but I'm definitely feeling more excited than nervous.
"A friend of mine and I are actually attempting a Guinness World Record with this marathon, for the fastest time in handcuffs.
"It was set by two Canadian guys in Toronto in 2019, so 3hrs 15mins and 42 seconds is the time to beat. We've done the work and are in good enough shape, but marathons can be so unpredictable – we'll have a bit of fun and see how it goes."
READ MORE: Lisburn woman Holly Neill hits the streets to raise money for Ovarian Cancer Action
Leanne Lindsay, Optician Director at the Lisburn store, said, "We are all so proud of Daniel taking on this challenge and raising money for such a worthwhile charity.
"Daniel has been with the store for two years and is a fantastic member of our team. He shows true care and compassion for patients every day. We'll all be tracking his progress on Sunday and will definitely be celebrating his success when he gets back home."