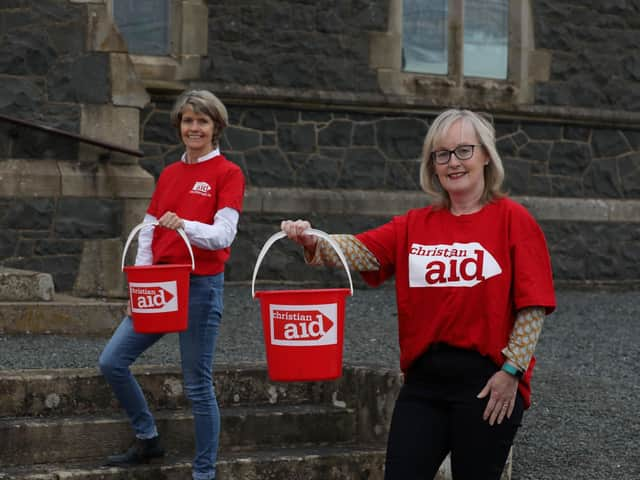 Louise McGregor and Susan Wilson are among five women from the Church of the Ascension in Annahilt who will complete a 5 km walk around Hillsborough Park on 12 May while carrying buckets of water. In a normal year, the friends attend monthly coffee mornings held at their church to raise funds for Christian Aid but with churches closed for much of the last year, they decided to do a 'walk for water' instead, marking Christian Aid Week (10-16 May).
Their walk is inspired by Rose Jonathan (68), a widowed grandmother from Kenya where severe drought and a changing climate mean that she must spend up to seven hours a day walking to fetch water for her family and livestock.
Rose has been the sole carer for her six grandchildren since her husband died and her daughters moved to the city for work. Climate change has brought drought and hunger to the Kitui region of eastern Kenya, leaving Rose and many other women and girls in Dili village with no option but to walk long distances each day to collect water.
In the rural areas of many African countries, it falls to women and girls to collect water for their families and farm animals, and in drought-affected regions this can involve long and often dangerous journeys on foot. In Kenya, Christian Aid is responding to the crisis by funding the building of low-tech, sustainable earth dams which capture and store water when the rains do come.
Christian Aid Ireland Chief Executive Rosamond Bennett thanked Louise, Susan and the other women for taking on a 'walk for water' challenge. She said:
"In a year when our fundraising has been impacted by the pandemic, we're delighted that our supporters are finding new and imaginative ways to make up for the lost income. The Annahilt parishioners always give generously to support our work and their kindness is already reaching countries such as Kenya, bringing hope to people living in poverty - people like Rose."
To support the Annahilt 'walk for water', please visit caweek.ie/annahiltwalkforwater to make an online donation or post a cheque made payable to Christian Aid Ireland and marked 'Annahilt walk for water' on the reverse to: Christian Aid Ireland, 96 Beechill Road, Belfast, BT8 7QN.