The 'Happy Birthday Northern Ireland ' event will be presented by popular radio duo comedian Tim McGarry and local historian Dr David Hume.
In the popular BBC Radio Ulster programme The Long and the Short of It, they have spent several series learning about - and then disagreeing about - all aspects of Irish history. Now in this special live event Tim and David will turn their attention to a very topical and controversial subject – the very creation of Northern Ireland.
In 2021 Northern Ireland as a distinct political entity will be 100 years old and it is fair to say that the commemorations will be a game of two halves!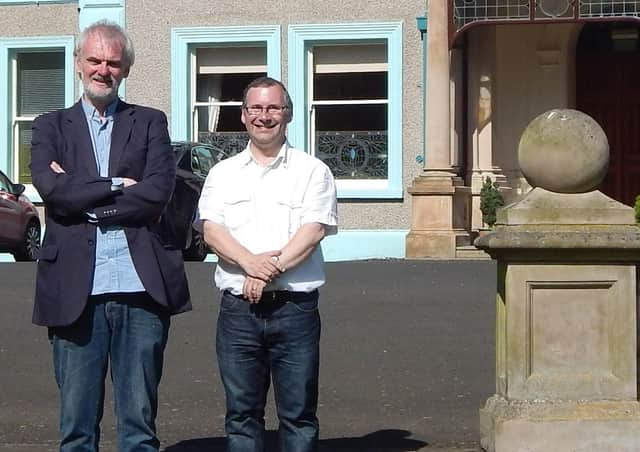 While unionists will be celebrating the centenary, nationalists will not, as they see the outworkings of the 1920 Government of Ireland Act as nothing much to write home (to Dublin) about!
Tim describes himself as "a lapsed Papist" and David is an Orangeman so expect differing opinions as the pair consider whether nationalists simply failed to understand Ulster unionism, whether unionists turned their back on those in Monaghan, Cavan and Donegal and whether Irish nationalists also abandoned their compatriots in the north.
Although there may be differences, the evening will answer the question of how we came to be in the state we're in.
The event is in association with David Hull Promotions and takes place at 8pm on March 26, with tickets free here
The festival will run from March 22 to March 28 and will include political philosopher and activist Noam Chomsky, actor and playwright Bonnie Greer and journalist Paul Mason among the line-up of speakers.
Click here to read Larne teen completes '4x4x48 challenge' for Marie Curie
A message from the Editor:
Thank you for reading this article. We're more reliant on your support than ever as the shift in consumer habits brought about by Coronavirus impacts our advertisers. Please consider purchasing a copy of the paper. You can also support trusted, fact-checked journalism by taking out a digital subscription of the News Letter.