Lori does a lot more than the bear essentials for Coleraine FC
Lori Watton is one of Coleraine FC's key players – even though the renowned kick boxer has never kicked a ball for them – and she's being highlighted as a super fan by broadband provider Fibrus.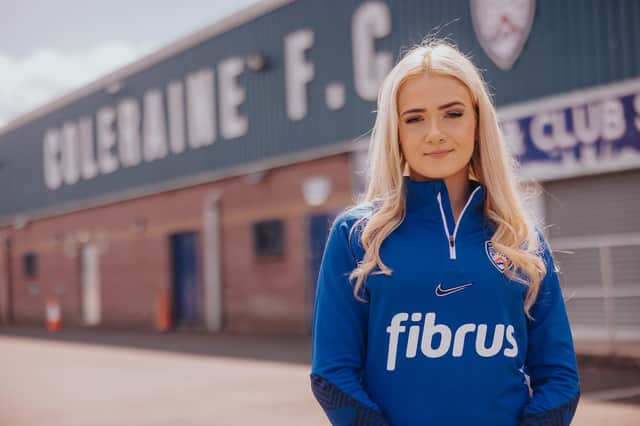 The 30-year-old self-confessed Bannsiders super fan is also part of the media team at the club, but that's only the start of it. Not only does she look after Coleraine's Instagram account, she takes their professional pictures too.
Best of all, however – well, according to six-year-old son Rowan – she also manages popular bear mascot, Benny the Bannsider.
"Rowan thinks it's cool that Benny works with me," said Lori, who posts video live updates on her home-town club's match days.
Lori, who has two younger sisters, has been a football fan virtually her "entire life".
"My dad (Chrissy) didn't have a boy until his grandson came along, so he raised my sisters and I to be lovers of the game," she said.
"When I was a kid, my bedroom wasn't decorated with Barbie or Hello Kitty, it was Liverpool FC.
"Then, when I was old enough to be aware of the Irish League, I remember asking my dad if he would take me to Coleraine games. But the answer was always no because he's a Linfield fan.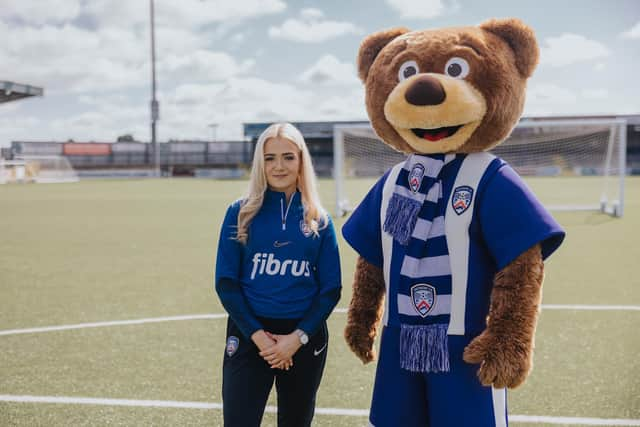 "I was 14 when I bought my first Coleraine top myself and started taking myself to the games with my friends.
"All my friends supported the club, and I grew up in the town, which is why I could never understand why my dad followed the Blues."
Lori attended all the home and away games with her friends. "It was the best craic and a real community to me," she said.
"As a young teenager, it was my little bit of independence because my parents were happy enough for me to go to Coleraine games.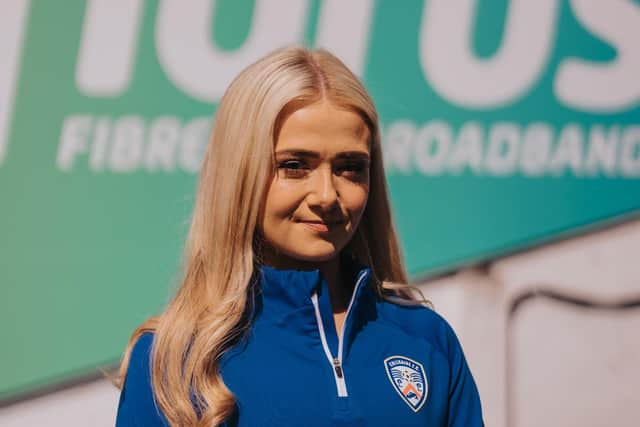 "It was a safe environment growing up and it allowed me to develop my individuality."
Lori, who studied photography at university in London, was primarily brought in to manage Benny the Bannsider on social media when he was launched last March.
"Benny is great for the club," she said.
"The kids love him. He's terrific PR when events are taking place and he's a great ambassador for Coleraine FC. The fans, especially the younger ones, love him."
In addition to "overseeing and promoting" Benny, Lori supports the club with its visuals.
"I do a lot of the commercial shoots," she said, adding that her volunteer work takes up more time than her part-time job at a local jewellers.
"I do it all simply for the love of the club. As Benny the Bannsider might say, every day is a laugh."
#FibrusFans is a campaign which highlights how fans are the backbone of communities, putting a spotlight on the inspiring people behind local sports clubs in Northern Ireland. "Fans are the parents, the grandparents, the sponsors, the physios, even the players themselves. Fans are all of us and, together, we're connecting communities," said a Fibrus spokesperson.