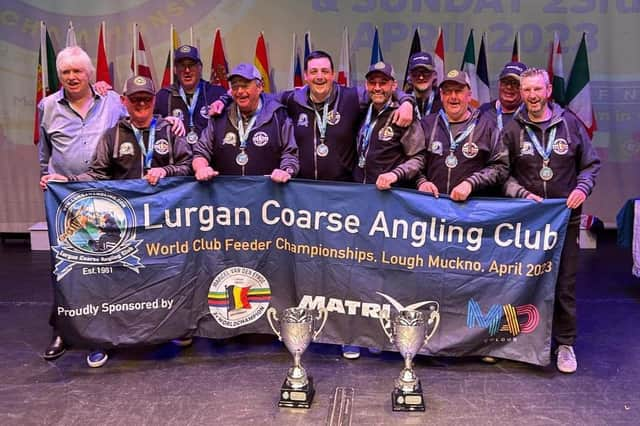 Lurgan Coarse Angling Club win World Feeder Club Championships at international event in Monaghan
Lurgan Coarse Angling Club has been crowned World Feeder Club Champion at the international event in Muckno at the weekend.
Published 24th Apr 2023, 16:33 BST
Updated 24th Apr 2023, 16:45 BST
Johnny Mckinley (captain of the team) said described it as an 'epic week'. The match was at Lough Muckno, Castleblaney in Monaghan with 28 teams taking part over seven days.
Mr McKinley said: "Words can't really describe what these bunch of lads have achieved this week. We worked together from day one as a team and went about our business in a professional way. All the days travelling up and down for practice and working things out put us in this position to have a go against the best feeder anglers in the world.
"To win Day One we would of walked away happy but to win the Gold medal and be crowned the World Club Feeder Champions – words cannot describe how happy I am. The club my dad started 41 years ago along with Gordy Clayton, Gordy Kerr, Willy Russell and Brian McShane to name a few who sadly are no longer with us this is for you and everyone who helped support us over the week."
Taking part were Johnny Mckinley (captain) Philip Jackson, Jim Mcallister, Johnny Keith, David Herron, Kevin Maguire with Captains Geoffrey McKinley, Philip Harten and
The final was over Saturday and Sunday of last weekend with five days of practice during the week.
One supporter said: "Well done to you and all the lads. I know the hard work you all put in and it's only just that you all got the reward that you did I say it all the time. A great club with a great bunch of lads."
"To win Day One we would of walked away happy but to win the Gold medal and be crowned the World Club Feeder Champions – words cannot describe how happy I am. The club my dad started 41 years ago along with Gordy Clayton, Gordy Kerr, Willy Russell and Brian McShane to name a few who sadly are no longer with us this is for you and everyone who helped support us over the week."