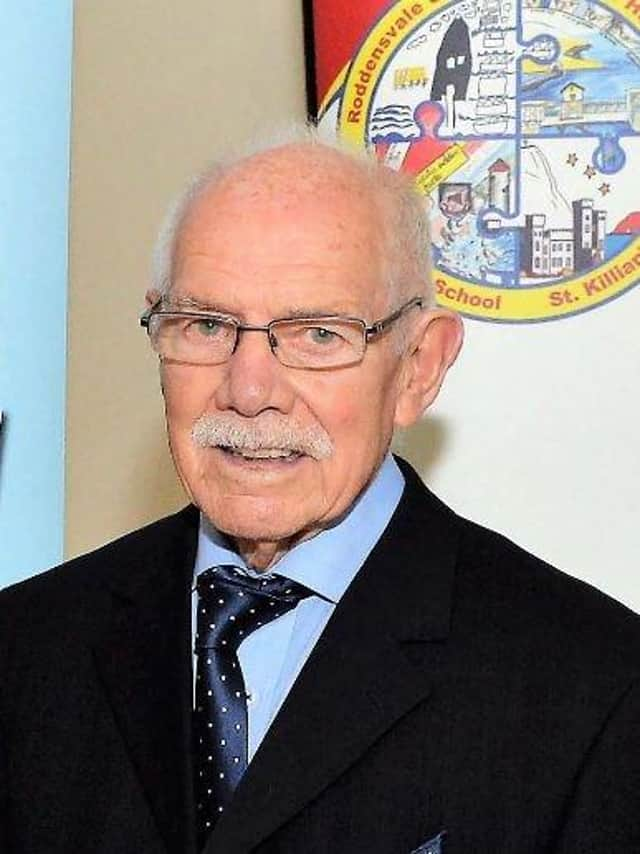 Family and faith were also highlighted at Mr Heatley's funeral service, which was held in All Saints Church, Craigyhill, on December 28.
There was humour too as his window blind making and woodwork skills were referenced.
Mr Heatley, who was 83, died on December 21 after a short illness. He was the husband of Jennifred; father of Heather, Leroy, Amanda and Graeme; father-in-law to Annette, Kenny and David and grandfather to Catriona.
In her address, minister Rev Arlene Moore told mourners of Mr Heatley's lifelong membership of the Church of Ireland and his association with All Saints dating back to 1969.
She said Austin was "a regular volunteer in the work parties, showing leadership in a group which undertook a makeover of the church" and the group also "undertook the building of a small extension to the hall".
"He also applied his intellectual talents serving a term as Church Warden then went on to become the first member of the laity to assist at Holy Communion," said Rev Moore.
The minister revealed Austin prepared a regular magazine, maintained a rota of readers and provided assistance to visiting clergy and helped ensure the continuation of the Festival of Lessons and Carols.
"The evidence of his handiwork is all around; for example, the chancel was a bit overcrowded, so he built an extension to the floor right where I stand; he made two little crosses for the choir stall, an alms dish stand out of simple materials and then one of his famous window blinds for the vestry and office.
Memorial Window
"It is down to Austin that the memorial window is adorned with a handmade plinth commemorating the Ulster Defence Regiment Conspicuous Gallantry Cross."
A former Army Cadet , Mr Heatley was among the first to enlist when the Ulster Defence Regiment was formed in 1970. He rose quickly through the ranks and was decorated in 1976 by the Queen.
In the eulogy, Major Heatley's son Leroy said his father "spoke very little of activities during his service and retired in 1980". However, he retained strong links with the regiment.
"He took an active interest in the welfare of former soldiers of the UDR serving as president of Larne Branch of that Association, which dad would be glad to see is represented here today."
Mr Heatley led a strategy to preserve the memory of the regiment locally erecting plaques in four churches and devising a book of remembrance recording those who had served in E Company and had passed on.
Born in Londonderry on July 26, 1939, Herbert Austin Heatley had one sister and four brothers. He attended Bennett Street Primary School and Foyle College, representing the latter at rugby, cricket and athletics.
Teaching and architecture were career options before he became a trainee housing manager with the Housing Trust, working and studying in Derry, Antrim and Portadown. Following professional qualification, Austin was appointed housing manager to Larne Borough Council in 1967.
After the creation of the Housing Executive, he was appointed the first district manager. "His skills were recognised by his employers, and he pioneered new practices such as computerised rent accounting and co-ownership housing."
Later he moved from social housing to become a self-employed project manager. "This new challenge was what he needed, and he soon became busy and in demand with successful projects ranging from helping disadvantaged groups to creating an enterprise park."
Voluntary Work
Leroy continued: "Good with his hands he also developed his DIY skills (some of which is evident here in All Saints) into window blind making. Busy as he was, he found time to give back to society by voluntary work as a member of the board of governors of four schools, his favourite being Roddensvale."
In a tribute, Roddensvale School, which provides education for pupils with severe learning difficulties, stated: "Mr Heatley had a long association with the school, first as the parent of one of the pupils, then as a governor from 1986 to his retirement in 2013. Mr Heatley was on the first ever board of governors at its inception in 1986, when Roddensvale School changed from being run by the Health Department to being managed by the Department of Education.
"Alongside his successor, Dr Baird, Mr Heatley was at the fore of many of the momentous events at the school, from the move from Health to Education, the design and construction of the new school building in 2005, to the final provision of a hydrotherapy pool in 2017 following a tireless campaign spearheaded by Mr Heatley.
"He was a true gentleman who put the needs of the pupils front and centre. He gave many years of distinguished and selfless service to the school and our sympathies are with his widow, children, their partners and the entire family circle."
There was also recognition of Austin's stints with the Royal British Legion, Housing Association, Rotary, and Mencap, while further levity was provided when son Graeme told those gathered that his "ever-organised" father, who sang with Larne Concert Choir, had left a note of the hymns he wanted sung at his funeral, quipping: "It'll come as no surprise to you all to hear there were 13 hymns in total for the service!"
In his concluding remarks, Leroy said: "Central to his life was the needs of those with learning disabilities and he inaugurated the Friends of Larne Adult Centre and the group has gone from strength to strength. Of greatest importance to dad was his family who meant so much to him and of course, Jennifred, a loving devoted wife without whom he knows life would have been an empty shell."
Following the funeral service, interment took place at Larne Cemetery.