The law gives assistance dog owners the right to access businesses and services without discrimination. But, according to Guide Dogs, 81% of assistance dog owners have been refused access to a restaurant, shop or taxi at some point because of their dog. Being refused access has a significant negative impact on the confidence, independence and wellbeing of people who use assistance dogs.
Guide dog owner Gary Morton who met the Chair said: "Buster is so vital for me to get around, giving me independence and freedom. The people of Moneymore, Cookstown and beyond have been nothing but welcoming to us, but it is a great shame to think that other guide dog owners are not receiving the same treatment."
In response, Guide Dogs is campaigning to raise awareness about the access rights of guide dog owners and to make business owners aware of their legal duties to support assistance dog owners. Retail NI, Consumer Council NI and Belfast City Centre Management Company joined the then Minister for the Economy, Gordon Lyons MLA at Parliament Buildings to support Guide Dogs NI and help launch the campaign. They have committed to reminding their members and local businesses of their legal obligations to assistance dog owners.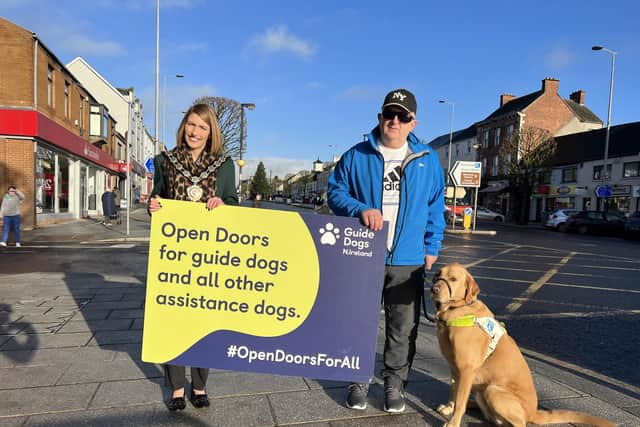 At the time, Gordon Lyons commented: "I'm delighted to be supporting the Guide Dogs Open Doors campaign. I want our economy to be innovative and inclusive, delivering benefits for all our people. Ensuring everyone can participate in the economy, including those who are visually impaired is an important step in this ambition. Access refusals can have negative effects beyond the moment they occur, and this initiative will help to educate and inform as we build a strong, inclusive economy that works for all."
Hundreds of volunteers signed up to take part in the event across the UK and Guide Dogs are providing stickers welcoming guide and assistance dogs for businesses to place in their windows.
The charity is also planning a street collection in Magherafelt on Saturday April 29. If you would like to help them get in touch by emailing [email protected]