Sixteen-year-old Abbie visited the islands in the south Atlantic in February and spent eight packed days immersing herself in the Falklands' way of life.
Working in partnership with the University of Exeter; the University of Newcastle; and Royal Holloway, University of London, the Falkland Islands Government launched the Falklands Forty Schools Competition last year.
The competition, which was chaired by the adventurer, author, and television presenter, Ben Fogle, offered seven lucky students from the UK the opportunity of a lifetime – an all-expenses-paid visit to the Falkland Islands.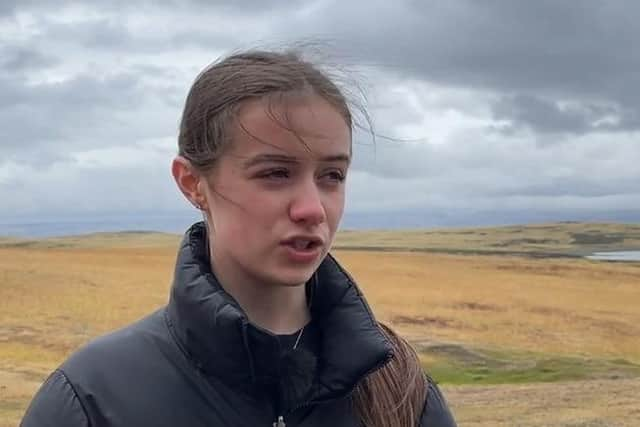 The aim of the visit was to allow the winners to experience for themselves the culture, history, and extraordinary natural environment of the Falkland Islands.
Chaperoned by three academics who collaborated with the Falkland Islands Government to deliver the competition, the group met with locals, including Islanders of their own age, elected Members of the Falkland Islands Legislative Assembly, and government officials.
The group also experienced the city of Stanley, a tour of the renowned Falkland Islands Museum, worked with scientists from the South Atlantic Environmental Institute, learned about the work of Falklands Conservation, enjoyed a photography session with a local photography, and learned traditional Falklands'dancing.
The winners also got to experience the wider Islands, spending time on Sea Lion Island, a short flight from Stanley, and a typical farm. On these visits, the students got to engage in sheep shearing and engaged with several species of penguin, two species of seals, and other local wildlife.
After a packed week, the winners returned to the Falkland Islands with new life experiences and new lifelong friendships.
Local winner Abbie said: "My granny is from here [Falkland Islands], so I thought I should come down and see where she grew up and meet up with family that are still here."
She also added: "one of the main highlights was when we went to Sea Lion Island. We learnt a lot more about the wildlife here, we saw penguins, sea lions. It was a really good experience, especially the plane flight."