SPAR Carnmoney Hill is the location of the new defibrillator, which will be available for the community 24/7, thanks to it being installed on the outside of the premises, providing essential access even when the store is not open.
It means there are now 27 local SPAR and EUROSPAR stores in the area with defibrillators installed, including SPAR Cavehill Road and SPAR Antrim Road, and numerous throughout Carnmoney, Glengormley, Whiteabbey, Greenisland, Ballyclare, Templepatrick and Carrickfergus and four in Larne.
The team at the store, along with customers, raised the money to have it installed as part of Henderson Group's Heart of our Community campaign, an initiative to get Northern Ireland's largest network of external defibrillators installed right in the heart of both urban and rural communities.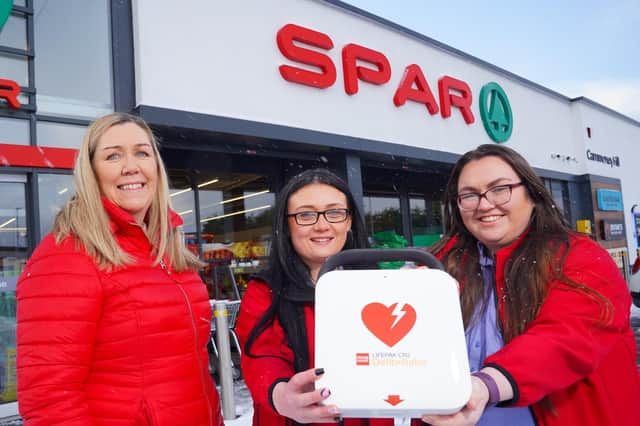 The new AED at SPAR Carnmoney Hill will be registered with The Circuit, the defibrillator network launched by the British Heart Foundation in partnership with the NHS, Microsoft and UK ambulance services, connecting every device to its local ambulance service and the public.
Avril O'Donnell, Assistant Manager at SPAR Carnmoney Hill explained: "We're so grateful to our shoppers in helping us raise the funds to install the device, and while we hope it's never needed, we also hope it can serve to save a life should it be needed."
Bronagh Luke, Head of Corporate Marketing at Henderson Group, added: "These defibrillators are easy to use, and the first port of call should always be 999. The Ambulance Service will talk the user through everything from locating the device, to CPR and use of it.
"As well as these local devices in recent weeks, we also have 10 more being installed in the coming weeks, which will bring our total number of Automated External Defibrillators installed outside SPAR, EUROSPAR and ViVO branded stores in Northern Ireland to 275, providing a potential lifeline to those who may need it when an emergency happens.
"We know that 17 lives have been saved thanks to our defibrillators and we hope to see many more installed in the coming years."
For more information about SPAR NI's Heart of the Community campaign, visit spar-ni.co.uk/heart-of-our-community