New mural of 'iconic' warplane lands in Ballymena
The generosity of Ballymena people during the Second World War has been recalled following the unveiling of a new mural.
Watch more of our videos on Shots!
and live on Freeview channel 276
Visit Shots! now
The artwork, which recognises the collective efforts of residents to raise money for a Spitfire fund, was created thanks to a Housing Executive community cohesion grant of almost £5,000.
The image in Drumtara features the aircraft, figures depicting Royal Air Force personnel and the RAF's badge with the motto 'Per ardua ad astra' which translates from Latin to 'through adversity to the stars'.
Seven Towers Community Association carried out the re-imaging project at the site after the old WWI mural deteriorated.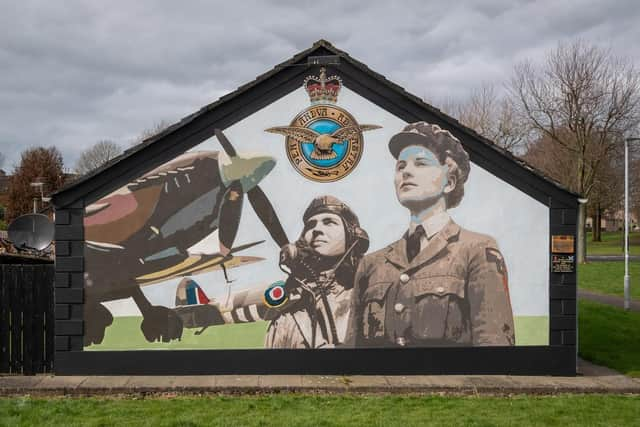 As part of a UK-wide fundraising effort in 1940, the province's Spitfire fund raised £88,633 16s 5d, the equivalent of about £2.9m in today's money. It was enough to buy 17 Spitfires used by the RAF.
Northern Ireland's twelfth Spitfire, which had the serial number P7835 ZF-S, was named 'Ballymena' in tribute to the local people who donated to the fund.
It is hoped the mural will improve the look of the site while also bringing the community closer together.
Tam Balmer, Seven Towers Community Association's chairperson, said: "The mural has an immediate impact on the visual appeal of the area, enhancing it and instilling a sense of pride among the residents.
Encourage Conversations
"Additionally, the project aims to foster a strong sense of community spirit and encourage conversations around the themes of shared sacrifice, progress, and cultural expression.
"This mural serves as a reminder of the collective efforts made by people in the past to defeat fascism and achieve greatness through collaboration, inspiring people to work together towards a better future.
"Thank you to the Housing Executive for all the help and funding to make this possible."
The other 16 planes - Aldergrove, Antrim, Armagh, Bangor, Belfast, City of Derry, Down, Enniskillen, Fermanagh, Harlandic, Larne, Londonderry, Mid-Ulster, Mountains O'Mourne, Portadown and Tyrone - were named in recognition of similar fundraising efforts.
Ballymena flew with many RAF squadrons but went missing over France on July 24, 1941. The Polish pilot Józef Czachowski is believed to have been killed by enemy action.
It was one of 20,000 Supermarine Spitfires that were produced during the war and the aircraft remained in production until 1948.
John Read, Housing Executive Good Relations officer, said: "We are thrilled with the artist's work and the successful outcome of this re-imaging project. The Spitfire is iconic and the mural recalls a time when the community rallied together for the common good.
"Seven Towers Community Association has done a sterling job in making the mural happen and feedback from the residents has been overwhelmingly positive. We take pride in supporting projects that improve areas and promote community cohesion."
For more information visit nihe.gov.uk