Dionne Pollock from Newtownabbey has lived with mental health issues for many years but has found the past three years extremely testing.
She said: "During these particularly tough times the one thing constant in my life was my love for art. I am a creative person by nature and I
found great comfort creating art which has definitely been a contributing factor in my recovery."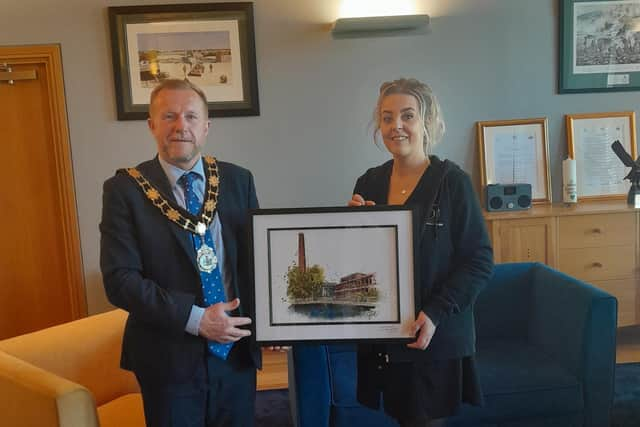 Dionne started to build a small collection of work from pictures she had taken from various trips across Northern Ireland.
She added: "Through my own experiences I wanted to give something back, sharing my art with family and friends and people I have encountered through my battle with mental health, opened up a platform for me to share stories and memories.
"It became very evident to me how common poor mental health actually is, and that you should never feel embarrassed about it.
"I am on my own journey of appreciating the small things in life and focusing on what we have instead of what we don't have. I want to create pieces of art based on our 'lovely wee country' which I hope will have sentimental value to people and help make them happy."
Dionne recently presented the Mayor of Antrim and Newtownabbey Borough Council, Ald Stephen Ross, with a digital print of Mossley Mill, from her quirky collection of digital art prints.
Commenting after their meeting, Ald Stephen Ross said: "It was great to meet with Dionne. I was humbled by her story and I greatly admire her honesty and courage.
"Dionne is a very creative person who despite her own struggles is committed to helping others through her art. I would encourage you to check out her work and support her business."