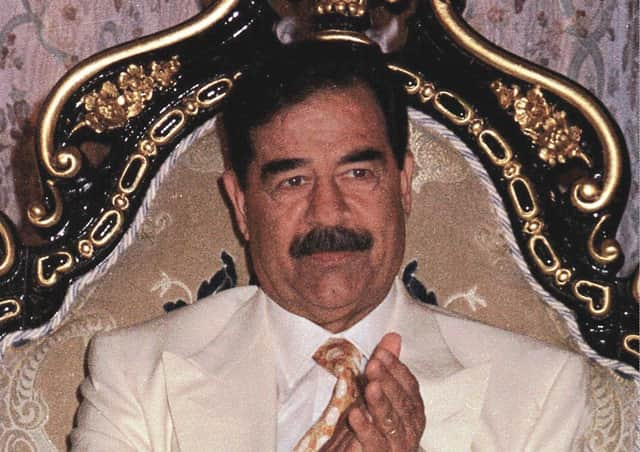 A new BBC documentary retells the story of a group of labourers from Northern Ireland who found themselves stranded in Iraq after they went there to fit out Saddam Hussein's palace.
When the painters and decorators were in Baghdad in 1990 the Iraqi leader invaded Kuwait, and with war on the horizon, they found themselves at centre of international hostage crisis.
One of those men was Bobby Buchanan from Armagh, who left his wife and two young children at home to go to Iraq for what looked to be a lucrative job.
In the hour-long documentary which airs on Monday night at 10.45pm on BBC One NI Bobby said a lot of the decorators working on the Mivan project in Baghdad were familiar with each other: "We'd all worked together before.
"We're a mixture of Protestants and Catholics, all working class, I'd worked with them for years, all good lads."
Peter McNally from Portadown was excited about the job in Saddam's palace. He said: "I'd loved going away to work, different jobs, different people, different towns.
"When we started working for Deluxe decorators it was just all local work and then they got in with Mivan and we started doing jobs in England and Germany and into Europe and then into America. The money was better when you were going away.
"We were approached to go to Iraq, I says 'I'll go to the moon'."
Michael Sands who was an engineer with construction and fit out company Mivan said: "I'd absolutely no concern at all coming from Northern Ireland. We'd all lived through the Troubles. I was 10 in 1969 so I was well used to the Troubles and a militarised country. It didn't have a bearing on my decision to go."
Bernard McKeever's wife Sharon was a bit more apprehensive: "From the very start I didn't want him to go. I knew there was something going on to do with oil. He said I was reading too much into it.
"It just happened to be the night that I recorded the news that was when it came out to say [Saddam] had signed a peace thing with Kuwait, they weren't going to invade the country over oil. [Bernard] says, 'you see, everything's fine'.
Bernard himself recalled: "I thought, 'it's going to be good money, it will set us up and hopefully everything will go from there'."
When they arrived in Iraq, where they were put up in a luxury hotel, the men observed that the people were enjoying being out on the streets after the end of the war with Iran.
Bernard said: "Everywhere you went at every junction or every roundabout there was a mosaic of Saddam Hussein so he must have been a popular guy. In the later days we learnt from different people just how afraid they were of him."
Fellow decorator Michael O'Neill, one of the youngest of the crew, said: "He controlled the radio, he controlled the TV, as the man said to us, 'the walls have ears'."
The team of labourers from NI were tasked with fitting out Saddam's palace in Baghdad, a job which required bulletproof windows made in the Harland and Wolff shipyard as well as ornate marbles and granites.
Peter admitted to using a common decorators' trick of hiding their signature under layers of paint: "My name is all over the palace behind the walls, it's probably still there."
When they weren't working the men were able to let their hair down in the Mivan social club. Some footage of their social gatherings feature in the documentary made by Tern Television.
Sharon said: "They were totally oblivious to what was going on. There was nothing on the news there. I was getting the BBC world news at home."
Back in Northern Ireland those tuning into the news learnt that Iraq had invaded Kuwait and warned foreign powers not to intervene.
Bobby said: "The news we were getting, we thought it was more of a skirmish rather than a real invasion."
The local newspaper reported that Kuwait had asked for Iraqi military aid and Baghdad had responded positively.
Michael commented: "[Saddam] invaded but he didn't tell his people that. His own people were oblivious to that because they weren't getting any outside news. You'd no internet in them days don't forget."
He added: "On the high rise buildings there were anti-aircraft guns, there was a barracks beside the palace, you'd have seen the recruits training. It was not an army, it was just people conscripted, all shapes and sizes – big, small, fat, skinny, it was so hilarious. Some had boots, some had trainers, some had nothing on their feet. These people weren't ready to fight a war."
Foreigners in Iraq were told they wouldn't be able to travel until things were resolved. At the time it was reported 5,000 Britons were stranded in Iraq, virtual hostage to Saddam Hussein.
Grenville Redmond, former director of Mivan, said: "Saddam would have referred to us as his special guests."
Painter Paul McCabe said: "It didn't matter who you were, you weren't allowed to go anywhere. We had to move out of the hotel and move into staff houses that were owned by Mivan and different countries. Nobody really knew for sure what was happening."
The decorators stopped being paid but when they refused to work they were told they wouldn't be given VISAs to go home.
It also became more difficult to get in contact with loved ones back home.
"You just had to keep trying and trying," said Bernard. "It maybe took a few days."
Sharon: "It went down from having a telephone call every second day to nothing. Looking back on it now it was terrible, having that dread every day, and maybe not even sleeping for a few days."
Bobby said: "Money was getting tight at home. I was playing for Armagh City at the time, they actually organised a charity thing and they used to send money home to my wife. They used to give her £100 a week which was fantastic. It was much appreciated."
With Allies sending troops to the Persian Gulf, Iraqi leader Saddam Hussein warned of deadly consequences of western intervention.
Michael explained how the men stayed up to date with what was happening: "We used to smuggle our radio into the palace and we'd listen to the home service.
"It was what was coming from (Britain) that we were worried about. The coalition coming in and invading Iraq, or bombing, or whatever, because we were near the complexes that would have been hit."
Paul said: "My main worry is they would start something before we got out. If the war started when we were still there we were going to be in danger."
A plan had been drawn up if war should break out they'd make for the border in cars.
Peter commented: "Some fellas where more scared than others, the only time that it got a wee bit [scary] was whenever I seen the tracer shells lighting up the sky practising for the planes coming in.
"I remember one night when the storm started, there were about four or five different thunderstorms, we woke up and thought they'd started bombing."
Sharon, who was back home in NI, said: "Every day you were waiting on a call saying they'd been taken (hostage), thinking they were never coming back."
In October 1990 Saddam agreed to release all Irish citizens over 55. John McCausland, a carpenter from Co Antrim was one of them.
Paul said: "When John got out that gave us a little bit of hope."
The documentary unearths some touching moments that made the news back home.
Footage is shown of Peter receiving a 50th birthday card and Bobby getting a painting from his daughter Carrie after missing her first day at school.
Though the most significant footage is of PM Margaret Thatcher's resignation in November 1990.
Some of those stranded in Iraq felt she'd been too hostile to Saddam and hadn't helped their case.
Shortly after John Major took charge Saddam announced the hostages could go home.
Bobby recalled the moment he was reunited with his family at Aldergrove airport: "I was so glad to be back.
"It did change my thinking on life. I was definitely more of a mellow person. Nothing annoyed me much.
"The wife would probably say I'm back to myself now."
Bernard said: "The innocents always suffer. It's just something that links us all together for the rest of your life.
"Iraq will always be in my heart."
Peter said: "It makes you appreciate what you've got."