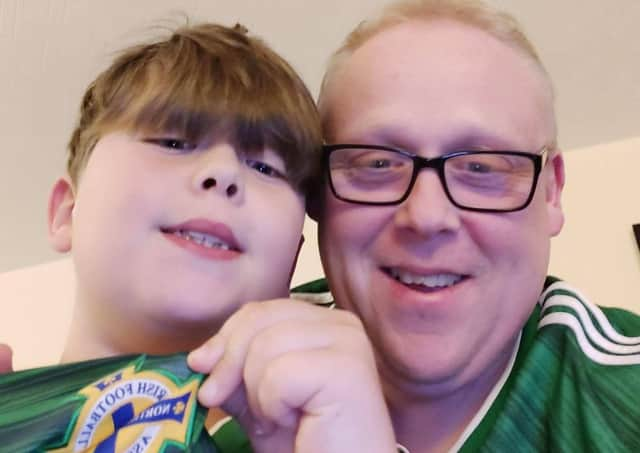 For those who ventured out to watch the game, the extra time and penalties played havoc with their viewing.
The North of England NI Supporters Club had met in a pub to watch the match but because of Covid restrictions they had to be off the premises for 10pm.
It meant they had to watch extra time and the penalties on the street outside with the bar kindly leaving the TVs on for them.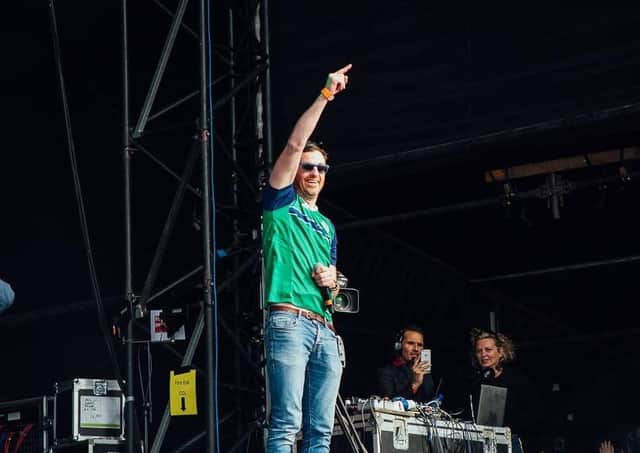 Northern Ireland fan Nicky Brown from Dromore also ventured out to watch the match but his viewing wasn't interrupted.
He said: "I watched the match at the Ulster Sports Club (in Belfast city centre) and it was surreal having to sit socially distanced from other fans when normally we are used to being in one big tight group marching down Tates Avenue before a game.
"Our first ever penalty shootout was nerve-wracking but when they missed I actually believed we were going to do it. I'm hoping and praying that some fans are allowed into Windsor and I'm lucky enough to be one of them on the November 12."
Lurgan man William Steele watched the match at home with his 10-year-old son Oliver, who was allowed to stay up late to match the game through to its conclusion.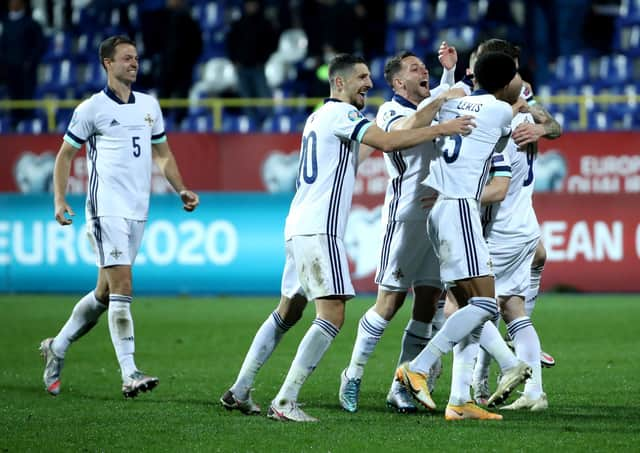 He said: "Into extra time and we both could barely watch, however we stuck with it and then for the penalties continued on the roller coaster.
"When Boycey scored cue joyous scenes with me and my son, then Oliver was off to bed. His final words before going to sleep were, "Bailey Peacock Farrell should be playing for Real Madrid'."
Radio broadcaster David O'Reilly, who watched the match in the house on his own, said: "As if the penalty shoot out wasn't torture enough, imagine having to try keep the noise down because of a sleeping baby."
David is faced with a double header on November 12: "The NI Music Prize, which I've hosted every year for about 10 years, is on the same night as the final. I'll be one very distracted presenter. Otherwise I'd have been there. Had I needed a cherry picker, I'd have been there."
NI man David Houston watched the match at work at The Drunken Ship pub in Rome: "It was the showpiece match on Italian TV. I needed a beer to calm the nerves during the penalties but was quietly confident after BPFs great save.
"Slovakia are definitely beatable and with home advantage it will be wee buns. I don't think I will be going to the final unfortunately due to travel and fan restrictions."
Fans are hoping Windsor Park might be able to accommodate more than 600 supporters for Northern Ireland's European Championships play off against Slovakia on November 12.
That's the number of fans who will be allowed to attend Sunday's Nations League game against Austria at the National Stadium.
The IFA were not available to provide guidance today on whether or not the same number of fans, or more, may be able to attend the crunch game in November.
Carrick MLA David Hilditch, who travels to Northern Ireland games home and away, said: "I have four tickets in my block booking, we didn't get any for this weekend's match at home of Austria so I was hoping that that might be a good sign that if there is another pick for the final I might be in with a better chance.
"There's 600 allowed into the game on Sunday. I'm wondering by the time the final comes around if there will be a larger number of people able to attend anyway. Fingers crossed."
He added: "There was a bit of atmosphere at the Bosnia match last night, especially from the fans behind the goal. It's not like the Premier League matches which are very difficult to watch because of the lack of atmosphere.
"I like live football myself rather than TV. I remember somebody asking me one night why I was watching Carrick Rangers Reserves against Portadown Reserves on a wet and windy night when there was a Champions League match on TV. I prefer live football, you can't beat it."