Nurses at Craigavon and other hospitals as well as those in the community joined porters and domestic staff from UNISON, NIPSA and the GMB on a 24 hour strike.
-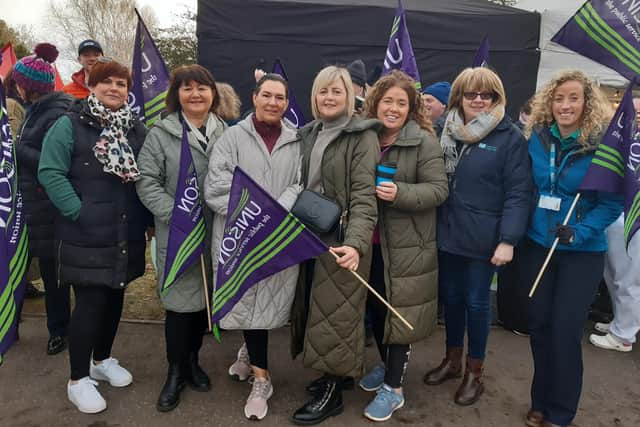 -
The stoppage will be the second full day of action taken by health sector unions in their campaign to secure safe staffing, better pay, and improved mileage allowances.
John Creaney who works at Craigavon Hospital and is a representative for UNISON said the lack of negotiations was down to a government that is not working. "Unfortunately the main man, Chris Heaton-Harris, the decision lies with him but he is too busy in America doing his trade deals."
Mr Creaney said the situation with health workers and staffing levels is at 'crisis point'. "Something needs to give. We need a better pay rise so we can have safer staffing levels and that our nursing family are not going to the private sector for better pay."
Salma Shakeer, an Intensive Care Unit nurse in Craigavon Hospital, said there are sometimes not enough nurses to cover the unit. "We need to get nurses from agencies. Recently we have been OK but still the pay is not enough. A lot of the new people are coming from India. They are really suffering because of the house rents. They hardly get £1200 a month and they can't afford the house rent because it can be £700 or £800 a month without furniture so they need to buy everything.
"That is why they are not coming out on strike at the moment because they need to work to get the money to support the family but they are all with the union at the minute.
"We are all trying to get a fair pay to support ourselves and our families.
"In ICU the patients are really very critical and we need a lot of experienced nurses. We can't get nurses from the ward or any other place to cover the unit, we need ICU nurses. If we get a fair pay I don't think nurses will leave ICU. The senior nurses, most of them left recently. I don't think they would leave and work as an agency nurse to get more money and a better career.
"We also need to fight to raise our band level. For example we are working maybe three years and ten years at the same level. We need to fight from Band 5 to Band 6. It should not be happening like this. We need more support from everyone in ICU for better care for the patient and our safety as well."
Mr Creaney said staff working in the health service are using food banks. "We have referred staff to services like St Vincent de Paul and charities. Unison has its own welfare charity and we have been inundated with referrals to support our staff, whether that is tokens for heating or for food."
He said all staff working on all bands have been in need of help. "It's affecting everyone. It is time this crisis ended, this Cost of Living Crisis, that is putting financial pressure on staff."
Sinn Féin MLA John O'Dowd said he fully supports health workers' decision to take strike action, but that they should not be forced to go to the picket lines to get their basic needs met.
Speaking after visiting striking health workers on picket lines, the MLA said: "I fully support our health workers on the picket lines today for fair pay and safe working conditions.
"They always go over and above to care for people and they shouldn't be forced to strike in the depths of winter for what they deserve.
"Cruel Tory cuts have undermined our health and social care services for over 12 years.
"The British Government needs to end the attacks on our health service and bring forward a deal that meets the needs of workers."
NIPSA health and social care staff have been on a continuous work to rule since 5 December last year following a massive 92.6% vote by members to go on strike. They last took to the picket lines on 12 December, 2022.
Terry Thomas, NIPSA Assistant Secretary said: "It is a disgrace that NIPSA Health Service members are again forced to take Industrial Action tomorrow to again reinforce their issues around Pay, Safe Staffing and Travel Reimbursement.
"NIPSA along with our sister trade unions in Health continue to stress that the current Industrial Action is forced upon Members and the inaction by politicians and government only serves to do further disservice to both the Health Service and the most vulnerable citizens in our society who rely on this.
"Their message is loud and clear that they remain more resolute and determined to succeed and we call on Government and Employers to engage with Trade Unions and negotiate meaningful resolutions not just for Staff but for a Health Service in crisis."
NIPSA, UNISON and GMB members, will be at 38 locations across the five Health and Social Care Trusts today.
A spokesperson for the unions said: "For all unions involved patient safety remains very important for health staff who will take industrial action. Discussions are ongoing to ensure the employers take the necessary steps to protect patients during this dispute."