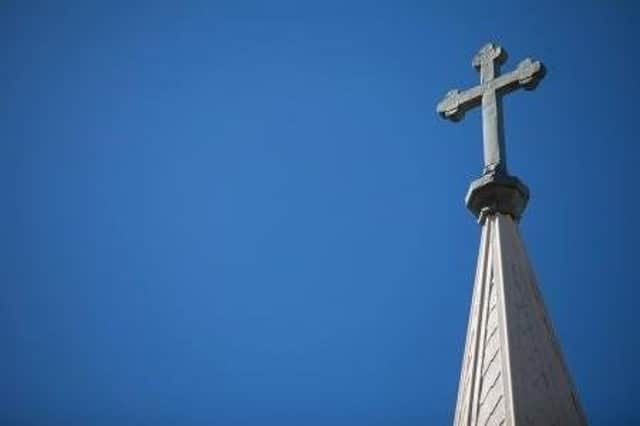 Mr Donaghy, who helped run Winnie's Newsagents in Portadown with his sister Marion, died on Tuesday aged 54.
Liam returned from Florida when his father Willie had taken ill and then worked with his mother Winnie in the shop for many years.
Married to his childhood sweetheart Maria, whom he met on the school bus to Dungannon, the couple have one son Shea.
The many tributes to Liam invariably used the phrase 'a true gentleman' who had 'a heart of gold'.
Customers enjoyed going into Winnie's to have a bit of craic with Liam who was always full of banter. He had time for people and always stopped to chat. He was praised for his kindness, always willing to go the extra mile for people.
"Portadown has lost one of its greatest characters," said one mourner, a sentiment agreed by many. "Woodhouse Street will not be the same without him," said another.
Many expressed deep shock and sadness at his death sharing sympathy and condolences to his wife, son, sisters and wider family circle.
St Patrick's Church in William Street was packed and over flowing with mourners at his Requiem Mass today a mark of the huge esteem Liam and the Donaghy family are held in the Portadown community and beyond.
At the beginning of Mass Joey, Molly and Marcus brought forward items from Liam's life including a Manchester United top, a Tyrone jersey and a newspaper.
There was a gentle ripple of laughter at the Tyrone jersey as it was brought to the Altar as Liam was an Armagh man but had been converted to supporting Tyrone while at school in Dungannon. He remained a constant Tyrone fan despite living close to and having friends steeped in Armagh GAA history and legacy.
The priest, Fr Paul Murphy CC, said: "Yesterday while preparing for this Requiem Mass the Donaghy family shared with me many wonderful memories they had of a husband, a father, a brother in a house of sisters and friend. It is impossible to describe a loved one in isolation. That is why at our funerals there is the great tradition of recounting the stories of so many at the wake in order to piece together the likeness of our beloved dead with all the colour and vibrancy of the mosaic on the Chapel's east wall.
"All who visited their home in Kilmore Park over the last 48 hours contributed to the creation of a true portrait of the special person of Liam Donaghy.
"Liam was born in the Royal in Belfast on the 16 October 1967 the only boy of Winnie and Willie. He grew up with his sisters on the Armagh Road in Portadown, a student of the Academy in Dungannon (St Patrick's). It was on the school bus where he met Maria who was at the Convent in Donaghmore (St Joseph's Grammar School).
"The Academy instilled in the young Liam great devotion to Tyrone as it happens as an Armagh man which he would in time like any convert pass on to his son Shea.
"As a young man he travelled to America where for five years he worked at a roofing company in Florida. When his father took ill in 1995 he returned home to work in the family business and aptly filled his father's shoes as newsagent and general merchant full of banter and craic.
"It was also during this time he rekindled his teenage romance with Maria and it came to pass that the butcher's daughter married the newsagent's son.
"In God's dear providence there are no accidents and perhaps the groundwork for the perfect union had been put in years previously as both Liam and Maria's mothers would go to Lough Dearg together for their time of retreat and prayer. Both of these ladies cherished their faith and passed this on to their children and were delighted in the union."
In 2004 Liam and Maria became parents when their son Shea was born. The priest said: "Liam was very natural with children. He could recognise in him an instant affection and rapport and as such he was a popular coach for the youth at Ballyhegan Davitts and the apple not falling far from the tree Shea trains there in his Tyrone jersey no doubt trying to convert more Armagh ones.
"Liam was a big man with a bigger heart. He had time for people. He would always do you a good turn and always had the necessary contact as the fixer. Whenever you needed football or rugby tickets, a plumber or a flat roof repaired instantly he knew to whom you should go. He will be sorely missed by his family, friends and by our community.
"These are only a few salient memories, vignettes of the life of an individual, Liam's story that cannot be confined to the printed page or told completely by one voice."
Liam Donaghy (Kilmore and Portadown) was the beloved husband of Maria (Nee Knox), dearly loved father of Shea, dear son of the late Winnie and Willie and brother of Ann, Una, Teresa and Marion.
After his funeral Mr Donaghy's remains were interred in St. Patrick's Cemetery, Stonebridge.His passing is deeply regretted by his sorrowing wife, son, sisters, sisters-in-law, brothers-in-law, nieces, nephews and entire Donaghy and Knox family circle.