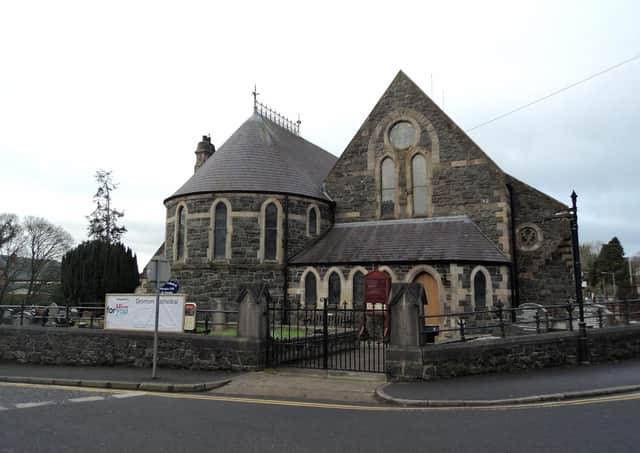 Dromore Cathedral. Pic courtesy of Dromore Cathedral
A £12,760 grant will help fund urgent repairs to the walls, windows and roof of Christ the Redeemer, safeguarding the heritage of the church and enabling it to continue to serve the local community.
The Very Reverend Geoff Wilson, Rector and Dean of the Cathedral Church of Christ the Redeemer at Church of Christ the Redeemer said: "We are delighted to have been awarded this significant grant from National Churches Trust, particularly in these most challenging times for many churches.
"The funds will enable us to preserve the integrity of our wonderful church building from rainwater ingress as a place worship, a centre of mission and a place for silent reflection and private prayer."
The grant will support repointing walls, replacing cracked and crumbling sand stone detailing to window reveals, and provision of lead flashings.
Broadcaster and journalist Huw Edwards, Vice President of The National Churches Trust, said: "I'm delighted that Cathedral Church of Christ the Redeemer, Dromore is being helped with a £12,760 National Churches Trust grant thanks to the support of the Department of Communities in Northern Ireland.
"The repairs will facilitate repairs to the walls, windows and roof of the building.
"The grant will safeguard unique local heritage and to help Cathedral Church of Christ the Redeemer continue to support its wider community as we begin to emerge from COVID-19 pandemic."
Funding for the grant comes from the Department for Communities Historic Environment Division's Covid-19 Culture, Languages, Arts and Heritage Support Programme.
Communities Minister Deirdre Hargey said: "I am delighted that I have been able to provide this support.
"This will help catalyse renewal activity and animate communities affected by Covid-19 by working with them to tackle the issues faced by our historic church buildings which at the heart of our communities. Churches have played a critical role in the Covid-19 response and it is fitting that they now become part of our renewal through increased focus on conservation- led repair of heritage fabric, together with provision of new facilities to help ensure their continued use into the future."
The Cathedral Church of Christ the Redeemer is a 17th century church, built on a site used for Christian worship for almost 1,500 years. St Colman of Dromore set up a small 'daub and wattle' church on this site in 510 AD. Probably thatched with reeds from the River Lagan, which flows beside it.
A medieval church, about which no record exists, was destroyed in the late 1500s. It was King James I who, in 1609, issued letters Patent giving the Church of St Colman a new title and a new status: The Cathedral Church of Christ the Redeemer, Dromore (known as Dromore Cathedral). That building was destroyed in 1641 by Irish Insurgents. A new structure, of which small portions are still visible, was built by Bishop Jeremy Taylor some twenty years later in 1661.