The visit was hosted by Mid and East Antrim's Local Action Group (MEA LAG) which was formed in 2016 to deliver the LEADER element of the Northern Ireland Rural Development Programme across the borough.
The Minister first visited Carey Cleaning Machines, which received around £140,000 to expand their premises, enhance its product offering and embrace market expansion.
Minister Poots then visited Ahoghill Nature Park, where around £230,000 was allocated for a contemplative garden area including two wildlife ponds surrounded by wetland planting and a fenced off children's play park. To mark the visit, Minister Poots planted a mature cherry tree at Ahoghill Nature Park along with two pupils from Fourtowns Primary School.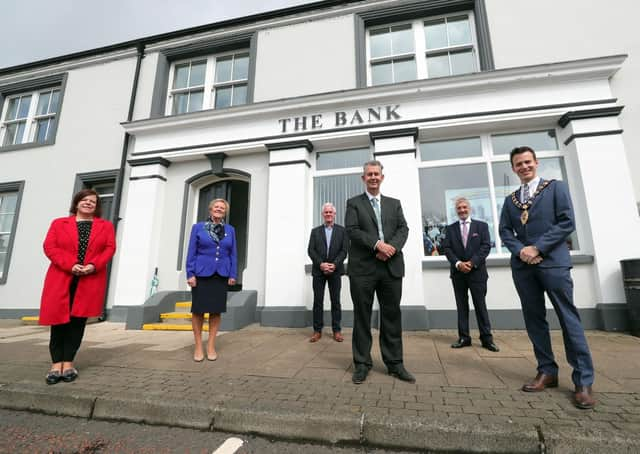 In his final visit, The Minister visited Portglenone Enterprise Group (PEG) which received almost £150,000 to convert the former Northern Bank building into a community hub and office space.
Minister Poots said: "I am very impressed that the funding provided to William Carey under the Rural Business Investment Scheme has created employment in the area and has the potential to create further jobs in the future. This project demonstrates what the funding can do for businesses and how it can assist with their growth plans. The Nature Park in Ahoghill and particularly the planting of the mature Japanese Cherry trees will benefit and be enjoyed by the local community for many years to come. We have seen over the last year the uptake in getting outdoors and enjoying nature and the health and well-being benefits that this brings. The Bank project is a great example of how a range of funders can be brought together to develop an excellent facility such as this one in Portglenone. This community asset is an important hub providing a range of basic services which will improve the quality of life for the community of Portglenone and its surrounding area. I congratulate you all and wish you every success going forward."
MEA LAG Chair, Kelli McRoberts said: "£4.6million of funding from DAERA, has been utilised in helping us grow the local economy in a sustainable manner. To date 63 jobs have been created. The funding has enabled us to improve a range of services and infrastructure, creating vibrant rural communities and working in partnership with neighbouring Councils and cross border partners in Waterford.