PSNI confirm that James Patterson's remains were found in car submerged in river last month - he went missing in 1991 - death not believed to be suspicious
Police have confirmed that the remains of James Patterson were found following the recovery of a car from the River Bann at the New Ferry Road in Bellaghy last month.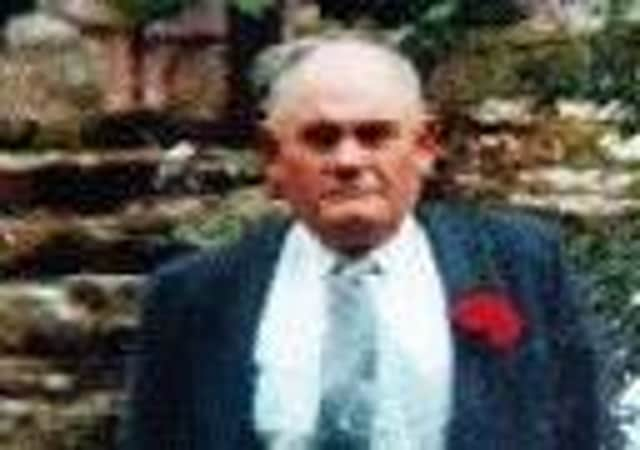 James Patterson
In a statement the PSNI said that vehicle was recovered from the river in July and 'following examination, it has been confirmed the human remains are those of James Patterson who went missing on 6th October 1991'.
The statement adds that the family have been informed.
His death is not being treated as suspicious.
The scene at New Ferry Road in Bellaghy, Co. Derry, where emergency services are searching the River Bann after a Ford Orion was discovered by local Community Search and Rescue on Saturday
However, a death notice in Funeral Times says that Mr Patterson, who was formerly from Desertmartin and who went missing on October 6, 1991, was laid to rest in First Magherafelt Presbyterian Churchyard on Monday, 10th August 2020.
The funeral notice adds that donations in James' memory, if desired should be made to Community Rescue Services Central.
Speaking to the Mid Ulster Mail last month his sister-in-law, Mildred Patterson, said it would be a great relief to finally know what happened to him.
"We always wondered where he went and if he would be found," said Mildred who lives in Tobermore.
She was married to Willie who died seven years ago not knowing where his older brother James had gone.
James came from a family of seven all of whom have now died with the exception of a sister, Iris, who lives in Scotland.
Mildred said James had lived at Motalee with his mother who had passed away a short time before he went missing.
She revealed that a team of divers had carried out a search of that area of the River Bann a few months after James had disappeared but found nothing.
"I can't understand why they didn't get anything as the divers spent a full Saturday at Newferry searching," she said.
"James went missing on October 6 and the search was either at around Christmas or early in the New Year."
She said her late husband had "always maintained" James could have gone into the river at Newferry.
"James wasn't a good driver and he stayed to the roads of South Derry," she said.
Mildred explained that James had been visiting someone in the Mid Ulster Hospital in Magherafelt on the Saturday night.
"As far as I can remember he went to church on the Sunday morning, came home and changed his clothes and drove away," she continued.
He was never seen after that and despite periodic appeals by the police he has remained one of Northern Ireland's missing persons.
The PSNI say the Ford Orion was found by a local Community Search and Rescue team.
The vehicle was taken away and for forensic examination.
It is understood the Community Rescue Service was carrying out planned searches in the area looking for evidence of any historic missing person, as part of its ongoing operation with the police.
The rescue service had located a car in the river days previously and had returned on Saturday, July 18, to try and identify the make of the vehicle to see what relationship it would have to any possible missing person.
Mildred said of James: "He was a quiet man and attended the First Magherafelt Presbyterian Church like his mother and father