The proposed hotel was expected to create 38 jobs and it was anticipated it would bring "much-needed regeneration and investment to the Riverdale area".
The 24-bedroom four-star boutique hotel was being developed by Kenny Bruce, Stephen Ashe, Mervyn McKay and Raymond Robinson, directors of MBA Inver Investments, on the site that would extend into adjacent Point Street.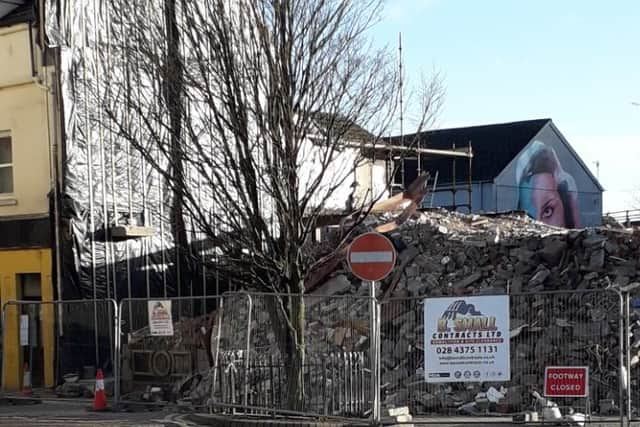 However, a proposal was submitted to the council last month for a residential development on the site.
Mr Ashe attributed the change of plan to the pandemic and commodity prices "going through the roof".
"The figures did not stack up at the end of the day to go down that road so we had a rethink on the way to go and decided to go down the route of apartments."
Freshen Up
Mr Ashe went on to say the new building plan will involve 40 apartments.
"It will definitely freshen up that area and with the flats coming down." The latter comment was in reference to Housing Executive plans to demolish Latharna House tower block.
A spokesperson for Mid and East Antrim Council said: "Given that there is a current planning application under consideration, it would be inappropriate for the council to comment on this matter."
Larne Lough DUP Councillor Gregg McKeen, a member of Mid and East Antrim Borough Council's Borough Growth Committee, said: "It's disappointing that the hotel is not going ahead but given the current economic climate I can fully understand why the developers have had to change their plans."
Dan Campbell's was built in 1903 by James Ferris and traded as a haberdasher's and later as a bar, restaurant and guesthouse in the 1990s.
The four-storey corner property failed to reach an asking price of £70,000 at public auction in March 2018. Previously, the building had an asking price of £150,000.
Michelle Weir, Local Democracy Reporter