Santa is coming to Kilrea with his 'cheerometer' so get practising those Christmas carols!
Santa Claus is coming to town to meet the children of Kilrea on Saturday, December 2.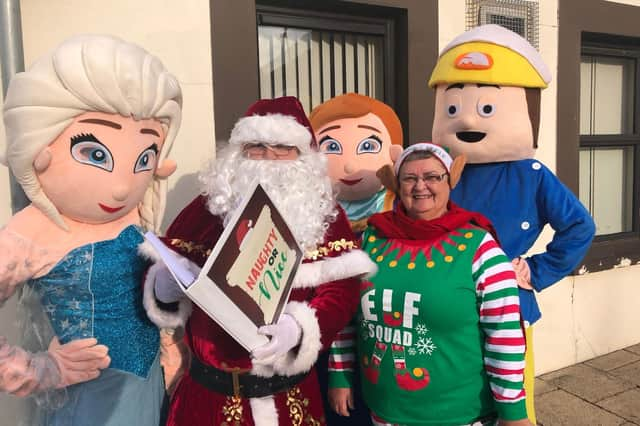 And he's bringing his 'cheer-ometer' with him in the hope that the festive singing on the Diamond will be loud enough to turn on the Christmas lights!
Local schools and choirs are already practicing hard to ensure they are in tune and full of festive cheer on the evening. Santa will be joined on stage on the Diamond from 5pm by his elves and special guests who will keep the crowd entertained as the countdown to turning on the Christmas tree lights begins. Once the lights are on, Santa will head to his grotto in the Town Hall and hand out a gift for each child to round off the evening.
Santa's event will be the culmination of a significant day for the community. From 2-4pm the Big Community Vote will take place in the Town Hall. Everyone in Kilrea from Primary 5 upwards is eligible to vote for their top five community-focused ideas which have made it to the final stage of this initiative run by Kilrea Community & Fairy Thorn Association. 20 finalists will present their ideas for funding from the Association, with one award of £1,000 and four pots of £500 going to the projects which get the most votes on the day.
Andrew Hickey, Chair of Kilrea Community & Fairy Thorn Association, said: "We are delighted to be delivering this year's Christmas Switch On and look forward to seeing everyone at our day of events which will lead up to Father Christmas arriving in the evening. We're also very keen to hear everyone in the crowd join in our carol singing – the words will be up on the stage for all to see – and the songs will definitely be familiar.
"But don't just come out for the Switch On. We'd love to see the people of Kilrea come to the Town Hall in early afternoon to take part in our Big Community Vote and have their say in the projects which will be delivered for the benefit of everyone in our community over the coming months. We hope to see as many of you as possible on the day."