The Expleo Tech and Engineering Teams Cycle Challenge will take place on Saturday (May 27), the first time the event has been staged since the Coronavirus pandemic.
Teams from IT and Engineering businesses will either complete a 40km or 80km cycle, with money being raised to support the work of the nominated charities.
Each team, made up of five members, is challenged to raise £1,500, of which £500 will be raised by the cyclists and the remaining £1,000 can come from their company's CSR/charity budget.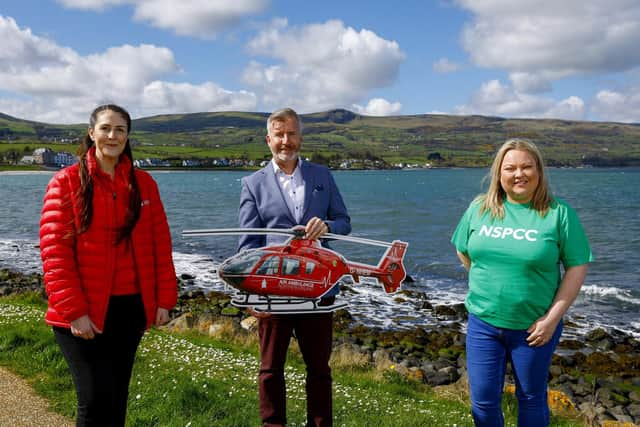 Starting in Ballygally, cyclists will enjoy the scenic coastal stretch, passing through Glenarm and Broughshane. They will have to contest with some challenging climbs and testing sprints, however, the event is not a race and the roads will not be closed during the challenge.
The event was first staged in 2015, before further successful events in 2016 and 2017. To date, more than £100,000 has been raised for charitable organisations.
This year, the organisers hope to raise at least £20,000, with the money being split between the two charities.
Rob McConnell, Head of Expleo NI, explained: "I want to thank everyone who is supporting the event.
"To give up your weekend means a lot. It's not an easy ride, so competitors have to do a bit of training.
"The charity sector has been impacted by the pandemic and economic climate. The Air Ambulance needs £2.5m annually to remain operational. The NSPCC has a team of volunteers who carry out some fantastic work. We're pleased to be able to raise funds for the services they provide.
"Our event ambassador is John Madden, Veteran Cyclist and Principal at Roddensvale. John's played an active role in this event over the years and we're delighted to have him onboard once again.
"After the cycle, entrants and their familes are welcome back to Ballygally Hall, where there'll be food, drinks and prizes."
Two online fundraising pages have been set up to collect money for the charities.
To support the work of the charity Air Ambulance Northern Ireland, click here
If you would like to make a donation in aid of the NSPCC, click here