St Patrick's barracks Ballymena: Mid and East Antrim Borough Council seeking residents' views on regeneration of site
Residents are being invited to have their say on plans to transform the former St Patrick's site in Ballymena.
Watch more of our videos on Shots! 
and live on Freeview channel 276
Visit Shots! now
Momentum continues to build with the planning phase for the first of Mid and East Antrim Borough Council's projects at the St Patrick's Regeneration Site – a public space and infrastructure project, known as 'Community Connections' featuring an event space, sensory garden, and more.
Before the council submits their planning application for the project, they would like to invite local residents and any other interested parties to a public consultation day to discuss the development of the designs on Wednesday October 25 from 12pm - 7pm at Seven Towers Leisure Centre, Ballymena.
A full planning application is currently being prepared for the 'Community Connections' project at St Patrick's.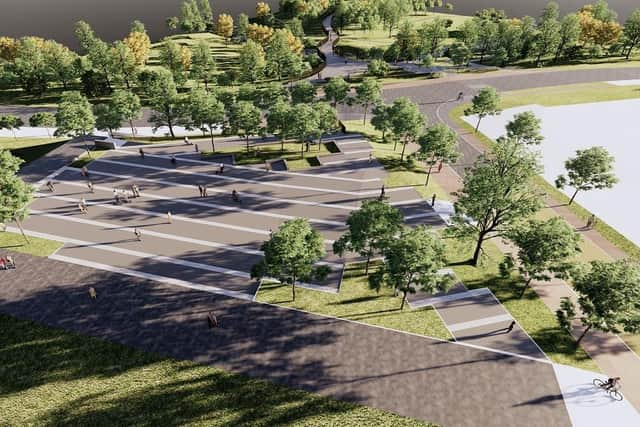 The central element of the proposal is a new public event space, designed to provide a focus for the wider St Patrick's development and a shared place for community activity.
This space will be complemented by a sensory garden and an interpretative area which will communicate the history of the site.
Plans for the interpretative area include the construction of a replica Clock Tower that once stood on the site, using brick salvaged from buildings previously occupying the site.
An upgraded path and carriageway network along with a new mobility hub aim to help to improve connections between the St Patrick's site and Ballymena town centre, as well as nearby residential areas.
A new pedestrian and cycle bridge over the River Braid will extend these connections into the recreational parkland around the Ecos Hub.
The St Patrick's Regeneration project, led by the Department for Communities, has begun to transform the key location spanning 15 hectares close to the centre of Ballymena.
The St Patrick's Link road, a key piece of infrastructure central to unlocking access to the regeneration site is now open.
Radius Housing is also progressing at pace with their new development at St Patrick's, which will see construction of 135 mixed tenure residential properties providing shared housing for all.
Meanwhile, Northern Regional College continues to make impressive progress with their new campus at Farm Lodge.
The council is working with these key partners and others to deliver a high quality, mixed-use development at St Patrick's, aiming to create a wide range of social, economic and cultural benefits across the borough.
In addition to the 'Community Connections' project, Mid and East Antrim Borough Council is also developing proposals for three new buildings at St Patrick's: the i4C Innovation and Cleantech Centre; a leisure, health and wellbeing centre, and an office building.
Comments on the proposals can be uploaded through a survey at the above web address or by emailing [email protected]
Written submissions can also be forwarded by post clearly marked 'St Patrick's Regeneration' to: Mid and East Antrim Borough Council, The Braid, 1-29 Bridge Street, Ballymena, BT43 5EJ.
The deadline for feedback is Wednesday, November 22 2023 at 6pm.