Stroke survivor backs charity's awareness campaign
A young stroke survivor from Ballyclare is sharing her experiences to help others understand the impact of the speech and language condition aphasia.
Watch more of our videos on Shots! 
and live on Freeview channel 276
Visit Shots! now
Keeley Murdock had a stroke in February 2022 at just 24 years old.
Keeley's stroke has left her with aphasia. A year on, she continues to regain more and more of her speech and language, but still experiences daily difficulties with word-finding, reading and spelling.
She is now backing a Stroke Association campaign launched on May 26 to raise awareness of aphasia and the impact it can have for stroke survivors.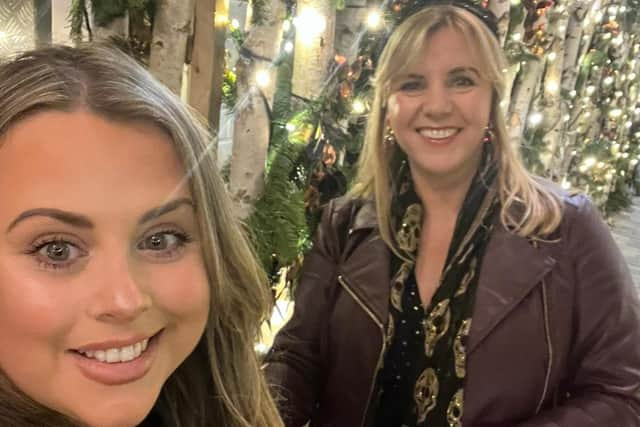 A sociable person who worked in a client-facing role in a solicitor's office prior to her stroke, aphasia had a huge impact on Keeley's confidence.
She said: "I'd always thought that a stroke was something older people would have. I want people to understand how difficult aphasia can be. I struggle with my speech. If I'm speaking with someone I might get muddled up and not be sure what someone is saying to me.
"To start with, I thought people wouldn't want to speak to me because I'd had a stroke. Speaking to someone else was a really big concern for me because I'd think, 'what if they don't understand me'?"
Before her stroke Keeley had been unwell, with doctors investigating the cause of her illness.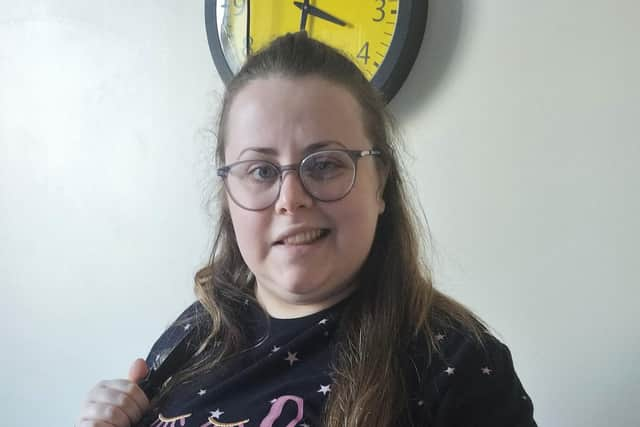 She was with friends at home when she had her stroke. Becoming lightheaded, her speech was slurred when she tried talking. Her friends recognised that she needed medical attention and phoned for an ambulance.
Keeley's mum, Lesley (45) explained: "At the hospital, the doctor took me into a room and said to me, very matter-of-fact, 'she's had a stroke'. I just thought the ground was swallowing me up.
"When I got to see her, she just looked at me and she couldn't communicate with me. It was absolutely heartbreaking.
"We were in shock with the whole thing. None of us really understood that she could have a stroke so young. The nurse said we were going to be part of her recovery."
Keeley had to relearn how to walk following her stroke. Her movement returned quickly, however, progress with her speech took much longer. She received speech and language therapy, but it took Keeley time to really take in the magnitude of what had happened to her.
Keeley stated: "After my stroke, nothing made sense to me. I didn't understand I'd had a stroke until the day I was leaving hospital. I didn't know anything about aphasia.
"I couldn't write and found it difficult to understand things. I couldn't understand numbers.
"The speech and language therapists were really good, but when I'd try and do something I couldn't get the word, which frustrated me more. I would know what something was, but it I just couldn't get the word."
When Keeley left hospital, she and her family were supported by their local community stroke team. That was when they were linked in with the Stroke Association for additional support.
Keeley said: "I struggled with things like telling the time and I didn't know what money was. I couldn't tell the difference between a pound or 50p, I'd just end up giving money to my mum because I couldn't understand it.
"The speech was a really hard one for me because I knew what I wanted to say but the words wouldn't come out the way I wanted it to. It knocked my confidence.
"It took me time to text my friends again because I was nervous. In the hospital the nurses had been saying to me, you need to text, a young person like you will need to be on the phone. To start with, my only speech on texts was 'yes', 'no' and a smiley face emoji."
Keeley attended a 12-week communication programme with a Stroke Association support coordinator who specialises in speech and language therapy. This gave Keeley the opportunity to speak with other stroke survivors and to get used to speaking in front of groups and writing words again. Her confidence began to grow.
She also received counselling via the Stroke Association's Emotional Support Service to help her come to terms with the impact of her stroke.
Keeley has now been taking steps to reclaim her life and independence after her stroke. She recently took a solo trip into Belfast for the first time since the stroke and was delighted to have managed the bus journey and coffee shop visit on her own.
She has also started a trial return to work and started driving lessons.
Keeley added: "I started to understand aphasia when I went to the Stroke Association communication group.
"My Stroke Support Coordinator gave me a card which says I've had a stroke and asks people to give me time, so I can use that in places like a coffee shop. That really helps.
"My aphasia does still affect me now. I think I'm okay with things like emails, but if I need to read a book I'd say I couldn't do that now. I could read it but then I won't know what I've just read."
In January 2023, Keeley started volunteering with the Stroke Association. She provides support at a stroke group in Carrick – the same group she attended – helping others with aphasia in their recovery.
Keeley said: "I help other stroke survivors with the worksheets and it feels really good to help others. I have a friend in the group and it's great to see their speech getting better.
"When I speak with my friends, they will always wait for me so I can finish what I want to say. If I say a word that I didn't mean, they'll say, 'it's okay, what word did you mean?' It helps me a lot. Please be patient with someone who has aphasia and give them time."