Teens challenged to create new vision for Larne
A group of young people have outlined their ideas for a new vision of Larne as part of an entrepreneurial programme.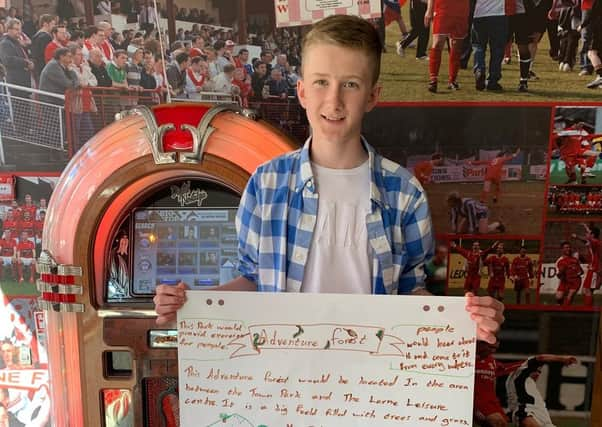 Recreate Larne, by writer and business woman Angeline King, was designed to engage teenage boys in the future of their town.
Funded by Larne Football Club's Brighter Futures programme, it took place in August at the 1889 Club.
"We used innovation concept cards to come up with ideas and then created a business plan for the ideas, creating vision, mission and goals," Angeline said. "Kenny Bruce (owner of Larne FC) called by as we were carrying out the exercise 'If I were I millionaire', in which the boys had to think up ways they would invest in Larne. He listened to some of the ideas and then increased the prize money from £100 to £500, so we were able to award the first prize £300, second £150 and third £50. An additional prize of £50 was awarded by Larne Renovation Generation."
Winners were as follows: First place: Robbie King - Adventure Forest; second place: Connor McKeegan - more bike lanes and bike racks; third place: Oliver Donnelly - Inver Skate Park.
Runners up were: Alexander Davison - Larne Hydro Paddle Boarding; Ross Carson - Carson's Caravan Park; Lewis Stokes - Put the smile back in Smiley Park; Ollie Reid - The Luxurious Lagoon; Elliott Bagshaw - Larne Outdoor Hydro Park, and Christopher Kelly - Re-construction Larne Main Street.
The Larne Renovation Generation Prize for Vision went to Luke McCullough for 'Redlands Resort'.
Speaking about the project, Mr Bruce said: "There are so many great ideas to choose from, and I have made my choices on the basis of things that I believe can be delivered by public and private sector."