The ultimate guide to camping, glamping, caravanning, farm stays and uniquely alternative places from which to explore every corner of Northern Ireland
Roll up your tent, pack away your supplies and stash some snacks before you hit the road for a unique adventure in Northern Ireland this summer.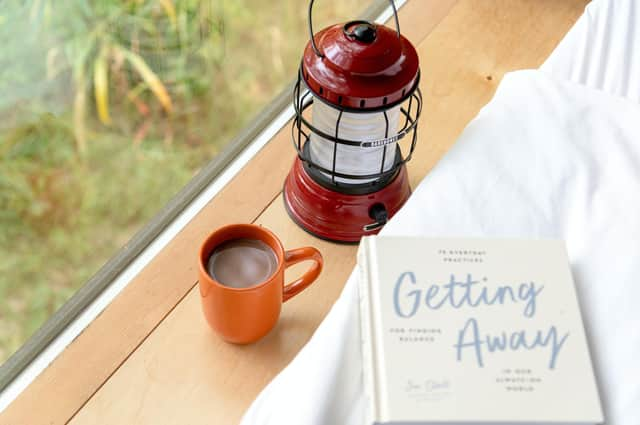 Whether you're wanting to visit every spot on this list or are looking for one special location to spend the weekend at, there are lots of fantastic camping opportunities to take advantage of throughout Northern Ireland.
From peaceful countryside campers in Co Tyrone to suburban sites mere minutes away from Belfast, you'll be spoilt for choice when picking where to go.
We;ve put together this ultimate guide to 50 of the best camping locations across Northern Ireland – and we've also added in some uniquely alternative places to stay too if you don't fancy sleeping under canvas.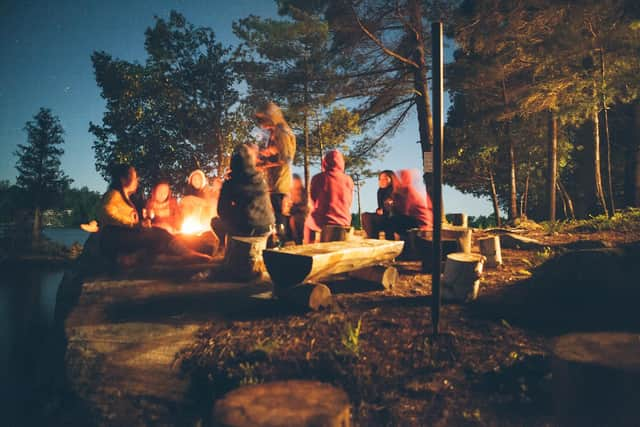 Flesk Water Camping can be found in a quiet spot just five minutes from the iconic Dark Hedges and 15 minutes from the calming coastline.
Offering a mix of camping, glamping and tours for you to enjoy, you can choose from the likes of a fully electric log cabin or an old-school grass pitch as your home for the following nights.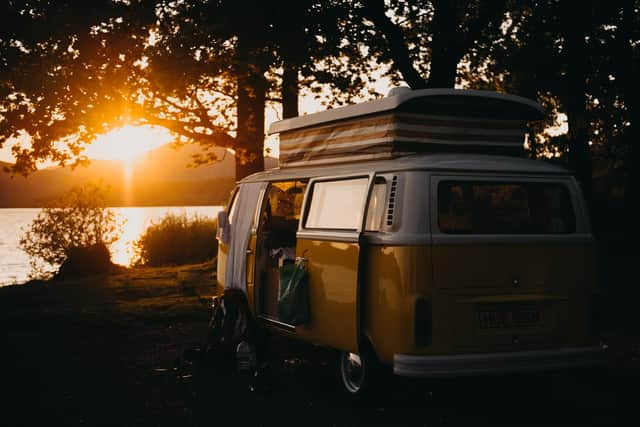 2. Highview Holiday Park Portrush
Based in Portrush, Highview Holiday Park is a small, secluded spot with space for 12 tents as well as four log cabins, two holiday homes and a self-catering cottage if you're after a more luxurious stay. Featuring modern facilities, a bathroom block and a new laundry area, you will have access to everything you need on site for the perfect remote getaway.
Situated six miles outside of Ballycastle, Watertop Farm is a great place for anyone wanting to soak in the beauty of the Glens of Antrim. Both campers and caravanners are welcome, with the coast providing a stunning backdrop for your superb slumber.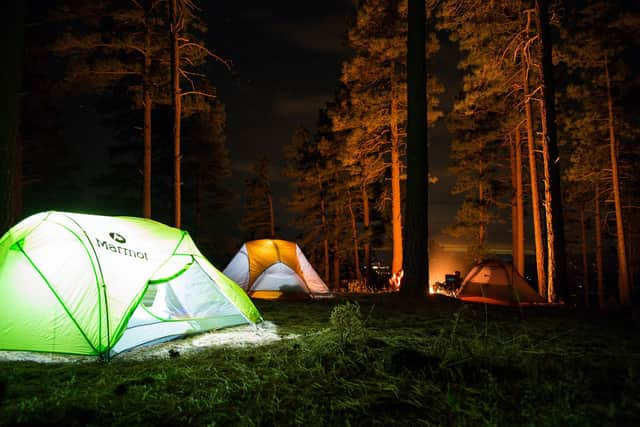 4. Fair Head Glamping Pods
Also nestled within the Glens of Antrim, Fair Head Glamping Pods offer a small number of pods to stay in on their private farmland for an intimate visit.
Each pod is self-contained and includes its own ensuite as well as a fully functioning kitchenette, sink and mini fridge.
5. Causeway Coast Holiday Park
Causeway Coast Holiday Park is a great spot for families to experience the various levels of leisure on offer at this 28-acre resort. As well as witnessing scenic views over Ballycastle Bay, Rathlin Island and the cliffs of Fairhead, you can enjoy local activities such as pony trekking and sea angling for an action-packed holiday.
Known for offering the height of luxury, Sycamore Pods offer a peaceful stay in the village of Cairncastle with added extras.
If you want the experience of a hotel but with a more secluded and remote feel, this is definitely the place for you.
Glen's Camping offers a remote stay within walking distance of the idyllic village of Cushendall, housing only two pods on their premises. Take a step out of your stunning accommodation to experience panoramic views of Glenariff, Glen Ballyeamon, Lurigethan and more.
8. Causeway Coast Wigwams
Causeway Coast Wigwams is a great choice for alcohol lovers thanks to its positioning in the famous village of Bushmills, known for its great-tasting whiskey. You can even take a trip through the natural wonders nearby, with beautiful beaches and coastal cliffs local to the spot.
9. Trench Farm Ballycastle
A working farm in Ballycastle, you can position yourself in the heart of Northern Irish agriculture at Trench Farm. From sheep and alpacas to pygmy goats and an adorable Shetland pony, the animals are likely to become the highlight of your trip.
Curran Caravan Park is based on the edge of Larne town centre, with a shop and plenty of local amenities within walking distance. Get your steps up with the nearby coastal path or take a trip to the new activity park for fun with the whole family
11. Six Mile Water Caravan Park
Based on the stunning shores of Lough Neagh, Six Mile Water Caravan Park is within walking distance of Antrim town as well as the gorgeous Antrim Castle Gardens. Bring your own tent and pitch up in this perfect location to explore Northern Ireland and the wider Antrim surroundings.
12. Drumaheglis Holiday Park
Sat on the banks of the Lower River Bann alongside the adjoining marina, Drumaheglis Holiday Park is just three miles from the historic town of Ballymoney. Access to lots of local wildlife and nature sites means you can enjoy an afternoon of fishing, sailing, canoeing or whatever takes your fancy.
13. Charlie's Hideaway Campsite
Just five miles from the Causeway Coastal Route, Charlie's Hideaway Campsite is in a prime location to explore the surrounding wonders. Choose from the quaint village of Armoy, a visit to a Game Of Thrones filming location at the Dark Hedges or horse riding at Shean's Horse Farm to complete your trip.
14. Jordanstown Loughshore Caravan Park
Jordanstown Loughshore Caravan Park provides a base for people with a caravan or campervan to visit Belfast and other locations. Travel the Causeway Coastal Route whilst you're staying or opt to drive further afield, with the secluded site offering a secure premises to come back to after your excursions.
15. Dundonald Touring Caravan Park
Dundonald Touring Caravan Park offers a great location for campers and caravanners alike to experience a peaceful getaway. Five miles outside of Belfast, you can pick from exploring the heart of the capital or take a walk around the calming County Down coast.
16. Delamont Country Park Camping and Caravanning
Delamont Country Park houses an award winning camping and caravanning park, being awarded five stars thanks to its amazing facilities. Surrounded by trees, you can feel truly secluded as you pitch up for the night facing the stunning Country Park.
Gorse Hill Farm offers unrivalled scenery of the local mountains from the comfort of their cosy cottages. You can expect four star luxury on the glamping site, with complimentary WiFi available to upload picture-perfect snaps of your stay.
Take your tent to one of the 35 camping spots on-hand at Castle Ward Caravan site, with the majority offering electricity and water facilities. You can carry out your daily tasks without having to leave the premises as a result of the laundry room and standoff drain on the site.
Windsor Holiday Park pride themselves on being a friendly family-run holiday location that is open to anyone and everyone. Based in Newcastle, they have static caravans to rent or buy fully equipped with great facilities and features.
20. Myrtle at Larchfield Estate
For an intimate experience like no other, Myrtle and Larchfield Estate is the place for you, with their 1952 Saurer Swiss Army truck being recently renovated to sleep two people inside. Your stay promises to be perfect, with a wood burning stove, under bed heating, sauna, hammock and fire pit all included in the stay.
21. Bluebell Lane Glamping
Bluebell Lane Glamping is a luxurious glamping site at the foot of the Slieve Gullion mountain for a relaxation-centred stay. Dubbed the last undiscovered secret of Ireland, there are different experiences on offer as well as the chance to explore the mythical area that was recently named an Area of Outstanding Natural Beauty.
Based in the Knockbarragh Valley, East Coast Glamping has the Mourne Mountains and Carlingford Lough as its picturesque backdrop. 3.5 miles outside of Rostrevor, the short drive into the village will provide you with access to the quaint pubs and restaurants for an evening of great hospitality before being welcomed back to your pod.
23. Kinnego Marina Caravan Park
Kinnego Marina Caravan Park has striking views over Lough Neagh as well as the option to see the distant hills of County Tyrone and County Antrim on a clear day. Park your caravan in their rural site and take a trip around the local attractions, including the Oxford Island National Nature Reserve.
With over 240 hectares of woodland and parkland to explore, Gosford Forest Park is open every day of the year for a nature-filled experience. Facilities on-site include play parks, family mountain biking, horse trails, walking routes and a pump track, with all open to holidaymakers staying on the premises.
25. Clare Glen Caravan Park
Set on the tranquil banks of the Cusher River, Clare Glen Caravan Park has 25 hard standing pitches to pick from, each offering electric, water and drainage hook-ups. A great location to pitch up if you love all things nature, you can explore the great outdoors from just outside your tent, motorhome or caravan.
26. Cusher Valley Caravan Club
Cusher Valley Caravan Club has space for 5 caravans to stay at once and is open for members only, providing a secluded, safe spot for visitors. The on-site shower and toilet facilities are shared between all campers, as well as each pitch having electricity, a water tap and a waste water outlet.
27. Tepee Valley Campsite
Tepee Valley Campsite is located up in the secluded hills of Northern Ireland's Apple County, providing a perfect escape from the busy activities of daily life. Each glamping spot is completely unique, offering individual locations such as the gypsy caravan, Abram's house and more, with each one being fitted out with luxurious facilities.
28. Lisnabrague Lodge Glamping Pods Poyntzpass
Lisnabrague Lodge is rich with history, now featuring stylish Glamping Pods to allow everyone cosy accommodation to stay in whilst visiting the house and its surroundings. Wake up overlooking Lough Shark and Acton Lake before having a deep dive into the 18th Century house and the working dairy farm which the pods sit on.
COUNTY DERRY / LONDONDERRY
Carnamuff Glamping offers high quality accommodation as well as a range of fantastic amenities, including free WiFi, BBQs, garden access and private parking. Take advantage of the terrace in every glamping hut to see stunning mountain views and relax in an area of pure tranquillity.
Carrowmena have different accommodation options to suit everyone's needs, ranging from family set ups in their furnished bell tents to the height of luxury in their deluxe tent, perfect for a romantic getaway. If you're thinking about visiting in the coming months, you can test your skills in the Maize Maze, tucking into a sweet treat from the in-house Coffee Pod afterwards.
31. Maddybenny Farm Campsite
Maddybenny Farm Campsite has both grass and hard standing pitches to cater to every camper's requirements. Located between Portrush and Coleraine, you can experience all of the beaches, golf courses, walks, activity centres and history visits that the Causeway Coast has to offer.
Based on a family farm at the heart of the Sperrin mountains in Slaughtneil, Carntogher Cabins have furnished accommodation for anyone looking to upgrade their camping trips. Each cabin is self-catering, with individual showers and kitchens for every group staying, sleeping up to five people per cabin.
33. Waterfall Caves Turn-Around-Houses Limavady
Situated at the bottom of the Binevenagh mountain, Waterfall Caves Turn-Around-Houses have accommodation options unlike any other in the country. Stay in any of their three underground caves, waking up to two freshwater lakes in an Area of Outstanding Natural Beauty surrounded by trees for a true nature retreat.
34. Drum Manor Forest Park Campsite
Drum Manor Forest Park Campsite has space for caravanners and campers alike, with 31 stands available across the park. The stunning location is close to a variety of scenic walks, featuring stunning forests and lakes that are sure to get your spirits up.
35. Dungannon Park Caravan And Campsite
Dungannon Park Caravan and Campsite is a 70 acre space centred around a calming stream-fed lake merely two miles away from Dungannon town centre.
Open from mid March to late September, there is a range of summer activities you can partake in during your time, including playing on the tennis courts, spending family time at the children's play area or cooking at the barbecue site.
36. Round Lake Caravan Park
Round Lake Caravan Park is just outside the quiet village of Fivemiletown, perfect for anyone looking for a stopping point on their caravan tour of the country. With electric hook-up capabilities and plenty of facilities on site, your stay will be completed with a walk around the stunning lake.
37. The Meadows Camping Field
Another camping spot in the Sperrin mountains, The Meadows Camping Field offers a great location to stay in the heart of nature. Perfect for avid walkers, there are lots of routes to take that start from the site, including alongside the calming brook that runs through the premises.
38. Glenpark Estate Caravan And Camping Site
Glenpark Estate Caravan and Camping Site have 24 landscaped pitches to choose from, sitting on the edge of the Gortin Glen Forest Park in the beautiful surroundings of County Tyrone. A great social space, there is a games room open daily until late at night for anyone looking to make new friends on their trip.
39. Share Discovery Village Caravan Park
Share Discovery Village Caravan Park is a fantastic place to stay when hoping to visit towns such as Fermanagh, Sligo, Donegal, Cavan and even further afield thanks to its ideal positioning in the corner of the country. The lakeside site has amazing views both on the premises and mere miles away from it, so take your camera and get snapping on your stay.
40. Riverside Farm Marina and Caravan Park
Based in the centre of Fermanagh Lakelands, Riverside Farm Marina and Caravan Park is popular with visitors from far and wide. Visit local attractions such as the Marble Arch Caves, Florencecourt House, Castle Coole and more, with lots of opportunities for fun with the whole family.
41. Drumhoney Caravan Park
Drumhoney Caravan Park is set in the main tourist spot of County Fermanagh, offering panoramic views and 110 acres of land to all visitors.
With the backdrop of rolling hills and vast mountains, you're sure to have a day of exploration after you've woken up from a good night's sleep.
42. Castle Archdale Caravan Park
Castle Archdale Caravan Park has been serving tourists in County Fermanagh since 1966, owned by the same family for over 28 years and becoming a staple in the local hospitality industry. Situated on the shores of Lower Lough Erne and 10 miles out of Enniskillen, the site is known for being incredibly friendly and welcoming to anyone staying.
43. The Ceili House Motorhome Park
The Ceili House Motorhome Park is only a short drive away from an array of attractions, including the Cuilcagh Boardwalk. Situated in the gardens of The Ceili House, you can head inside as the day is drawing to a close for a nice warming drink before heading off to sleep.
Spread across two areas, Crom Campsite covers Cullaigh's and Bell Hill for couples, families and solo travellers to stay the evening on their journey. Pick from pitching your own tent or staying in one of their gorgeous glamping pods, making use of the communal campfire to socialise with other holidaymakers.
45. Bubble Domes at Finn Lough
The Bubble Domes at Finn Lough are a once-in-a-lifetime opportunity to sleep under the stars within a see-through tent. For the best views of your surroundings and a luxurious experience like no other, this is definitely one for the bucket list.
46. Loaneden Caravan Park
Loaneden Caravan Park is a family-owned site settled into the stunning surroundings of the Fermanagh lakeland. Close to local amenities and attractions, the site is almost as beautiful as the various tourist spots within the county.
47. Rushin House Caravan Park
Rushin House Caravan Park is surrounded by Lough MacNean, offering views over the water and further afar. One mile away from Belcoo village, take a day trip and visit everything the small town has to offer.
48. Blaney Caravan Park & Camp Site
Situated in the countryside around Lower Lough Erne, Blaney Caravan Park and Camp Site is eight miles away from Enniskillen for anyone after a historical, cultural or retail trip. You can even use the site as a basis for crossing the border, being only a 25-minute drive away from County Donegal.
49. Carrickreagh Bay Luxury Glamping Pods
Take glamping to a new level with the Carrickreagh Bay Luxury Glamping Pods, directly looking out onto the shores of Lough Erne. With access to a forest and beach available a matter of minutes away, you'll be spoilt for choice on where to explore, but you'll definitely get your steps up on this stay.
50. Mullynascarthy Caravan Park
Mullynascarthy Caravan Park is just beside the town of Lisnaskea in the wondrous Fermanagh lakelands, based by the banks of the Colebrooke River. Whether you're going for a day trip, activity-filled adventure or want to escape the hecticness of everyday life, it's a great rural spot to choose.