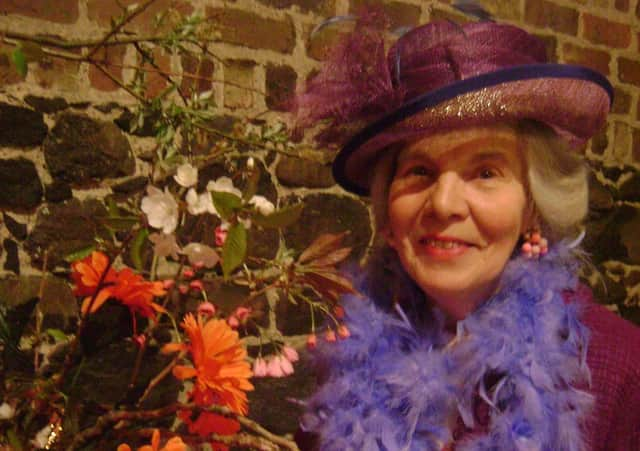 Mrs Fiona Cromie, from Aghagallon near Lurgan passed away peacefully yesterday (Thursday, October 8).
Mrs Cromie was a longstanding supporter of Lurgan Show but for many in the Lurgan area would have been a familiar face as a substitute teacher, particularly at Lurgan Junior High School.
Paying tribute on its Facebook page yesterday Lurgan Show said: "Another fabulous character bids us farewell. It is with a heavy heart that we learn of Fiona's peaceful passing this morning. Fiona and her late husband John were such amazing supporters of Lurgan Show."
The post added: "To Racquelle, Jonathan & families we send our love and prayers.
"Heaven is much more colourful today."
Other tributes have flooded Facebook including this from Young Farmers Ambassadors (Ulster Region): "It is with great sadness that we as a family in Ulster YFA express our sympathy and condolences to Racquelle and Jonathan on the passing of Fiona Cromie, the heart and soul of all our gatherings.
"We know we will never have the same colour and style in our presence, but are lucky to have felt the love, passion and hospitality Fiona showed to everyone she met.
"Fiona fought a brave battle with a smile and a story, and even in August we were able to enjoy her company at the annual Picnic when her audience were captivated as normal.
"Fiona is now reunited with her beloved John, which was a true love story.
"An inspirational lady who has left a lasting legacy to all involved with the exchange programme in Ulster and across the world.
Derrymore Céilí Club posted: "We have just learned of the sad passing of Fiona Cromie, a good friend of our Céilí Club. May she rest in peace. Our thoughts are with her family at this sad time. God bless."
Aghalee Village Hall said: "We were very sad to hear of the death of Fiona Cromie. Fiona was a lovely lady, colourful, larger than life and good fun to be around. She was known far and wide and will be missed. We extend our sincere condolences to Fiona's family."
Crumlin Young Farmers also paid tribute to Mrs Cromie, whom they described as 'a colourful member'.
The club said: It is with great sadness that we as a club express our deepest sympathy and condolences to the Cromie and Reid families at the peaceful passing of Fiona Cromie.
"Fiona was a colourful member and supporter of our club; she attended every event without fail (as long as she was in the country!) and was always immaculately dressed head to toe in clothes that were of the season's colours.
"She was a great asset to our club when it came to competitions, where she was always on hand to offer advice to or to calm the nerves of those who were about to compete in public speaking. She was also on hand to help judge at our home management nights; were she would always have a few stories to tell of her time in Young Farmers'.
"She will be sorely missed by the whole Young Farmers' community. But she is now reunited with her beloved John, which was another successful Young Farmers' love story."
Mrs Cromie was one of the longest serving volunteers with The Ballance House - Ulster New Zealand Trust, based at the birthplace of former New Zealand Prime Minister John Ballance and celebrating the links between the two nations.
The group said: We are so very saddened to hear of the passing of Fiona Cromie, one of UNZT's longest-serving volunteers. Children would come to our events and regularly ask 'when will the face-painting lady be here?'
"Fiona was such a popular, personable, colourful and creative lady, she will be greatly missed by all our volunteers."
A family death notice stated: "Cromie: Fiona Elizabeth, October 8th 2020 peacefully at her home, Fruitvale, Ballykeel Road, Aghagallon. Wife of the late John Alexander and dearly loved mother of Jonathan and Racquelle.
"Due to current circumstances, a private family Funeral will be held in Aghalee Parish Church Soldierstown on Saturday, 10th October, at 2pm followed by interment in adjoining Churchyard.
"Church will be reserved for immediate family and close friends only. Please observe social distancing if you wish to pay your respects on the route from her home.
"Family flowers only please. Donations if desired may be made for Aghalee Parish Church Building Fund and Marie Curie c/o Malcomsons Funeral Service, 7 Robert Street, Lurgan, BT66 8BE. (Cheques made payable to Malcomsons Donation Account please).
"Lovingly remembered by her sorrowing son, daughter, daughter-in-law Diane, son-in-law Terence, grandchildren Henry and Sophia, Christopher, Andrew, Sarah and Louise."