Kyle, a former pupil of Cookstown High School, describes it as a quirky sci-fi crime story about a sassy thief from West Belfast who has been hired by the Department of Justice to take on the Space Mafia and a team of professional rocket thieves.
"The reason that I made the protagonist from West Belfast is because science fiction has a tendency to be very dry and it was something that I wanted to stay away from when writing this book, and I thought what better way to keep it light hearted than to give the protagonist the sass and dark wit inherent in our little corner of the world, so I based her personality on a girl I used to work with who was sass incarnate," he said.
He's been writing for 20 years - "I love doing it" - and penned six drafts of the new book before being satisfied with it.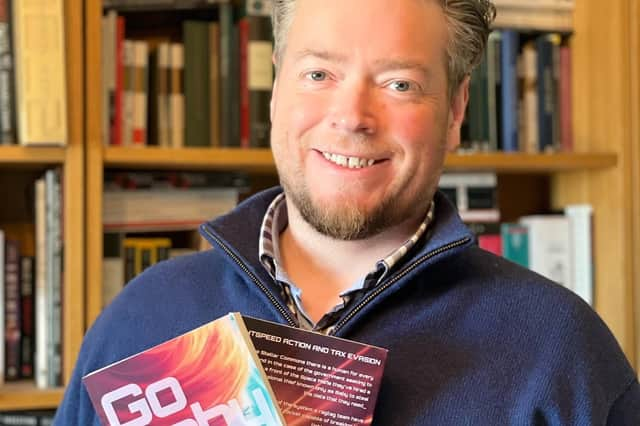 Friends and family who read it offered their opinions and Kyle took their suggestions onboard, as he reworked parts of the novel.
Kyle, who works in the property business, has an ambition to become a full time writer.
He has been self-publishing on Amazon for some years and has written several other books of different genres – thriller, horror and, of course, sci-fi. His work can be difficult to pigeonhole.
His other works include: 'When The Man Comes Around', 'Merrily Merrily' and 'Murder Syndicate'.
Kyle, who lives in the Bush area of Dungannon, describes himself as an "evening writer" and usually writes a page every day.
"Some of it can be terrible," he jokes.
And once he gets the first draft completed, he works on it again and maybe several more times until he's happy with the finished product.
"I don't let writing get in the way of my social life," he stressed.
Paperback copies of 'Go Baby Go' are now available in Sheehy's Newsagent's in Cookstown.