Lily Swann from Glynn began accompanying her mum on the annual Christian Aid Week fundraiser when she was just two months old and the pair had never missed a year until 2020 when coronavirus restrictions forced them to cancel. Lily is thought to be the charity's youngest ever fundraiser.
Each May, thousands of volunteers post red collection envelopes through the letterboxes of households around the country and among them are Lily, a P3 pupil at Glynn Primary School and her mum Lorna, a dental nurse. Together with dad Davey, the family are members of Magheramorne Presbyterian Church where Lorna is the Christian Aid organiser.
Lorna (36) said:"We live in the countryside, so we do the collection by car, driving from house to house. Lily would have been in her baby seat when I jumped in and out of the car. As she got older, she started getting the envelopes ready for each house as we drove along. She's a good wee soul."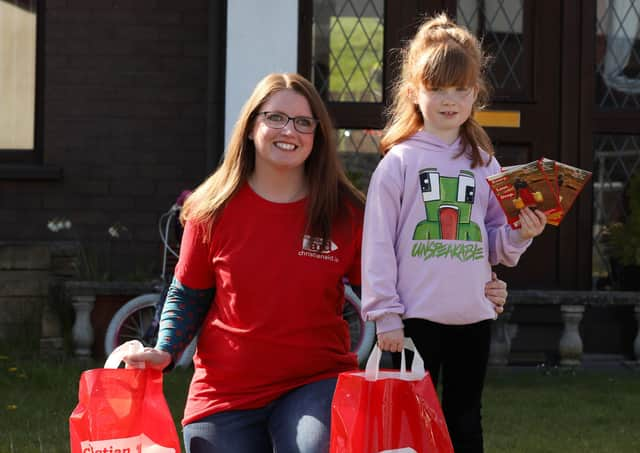 Rosamond Bennett, Christian Aid Ireland chief executive, paid tribute to the family. "Lily is a great girl and it's wonderful to see her following her mum's good example by giving up her time to raise funds for an important cause. We enjoy strong support in east Antrim and we are indebted to Lily, Lorna and all the volunteers who generously give up their time to help us bring hope to people living in extreme poverty."
Christian Aid's appeal focuses on climate change and the story of Rose Jonathan (68) who lives in the Kitui region of Kenya where drought and unpredictable rain means she must walk for many hours each day to collect water. To find out more visit caweek.ie or you can make a telephone donation on 028 9064 8133.
Click here to read: Ballycarry artist's work goes on display at Whitehead Community Association's new Welcome Centre
Thank you for reading this article. We're more reliant on your support than ever as the shift in consumer habits brought about by coronavirus impacts our advertisers. Please consider purchasing a copy of the paper. You can also support trusted, fact-checked journalism by taking out a digital subscription of the News Letter.