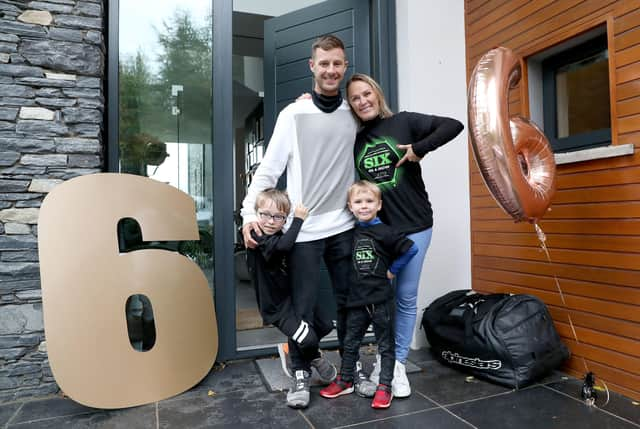 World Superbike champion, Jonathan Rea, is welcomed back home to a huge welcome from his sons Jake and Tyler and wife Tatia after winning the title for the sixth time in Estoril, Portugal in 2020. Picture: Steven Davison.
The council has agreed that a "low key ceremony" will be held at the Mayor's Parlour in Larne Town Hall due to ongoing restrictions in April or May.
Officers are working with Jonathan Rea's management team to finalise arrangements after the ceremony had to be postponed last year because of restraints of the Covid pandemic.
Freedom of the Borough is the highest honour to be conferred by a local authority. It is to be bestowed on the past pupil of Larne Grammar School in recognition of his success in the World Superbike Championships including six record-breaking consecutive wins and his success in the sport internationally.
In additon, the council has launched a bursary in Jonathan Rea's name which will give additional support to individuals within the council area who will "act as effective ambassadors for Mid and East Antrim in their chosen sporting activity" with funding up to £2,000 per individual available.
The Freedom honour was first proposed by Larne Lough DUP Councillor Gregg McKeen in February 2019 but the ceremony was unable to take place before the end of that year due to "constraints around the motorcycle racing calendar".
It was agreed in October 2019 that the most suitable month for the event would be November 2020 but this had to be deferred due to "additional complexities in progressing arrangements" due to the pandemic, councillors were told.
Cllr McKeen said: "I proposed on February 4, 2019 that we bestow the Freedom of the Borough on Jonathan Rea for his outstanding sporting achievements at a number of World Championships.
"He has since extended this by a further four times and congratulations on that."
Cllr McKeen went on to say that the ceremony had been planned for early 2020 originally "due to timing".
"I am happy to propose that we confer the Freedom on DrJonathan Rea at a low key informal ceremony hosted by the Mayor in Larne to mark his achievements. He is a man from Larne who put this area on the map."
Larne Lough DUP councillor Alderman Paul Reid stressed the importance of what Dr Rea has achieved on the track and the successes he has brought back to Northern Ireland.
Dr Rea received the Freedom of the Borough of Antrim and Newtownabbey in January 2019. He was given an honorary Doctorate of Queen's University in December 2019.
Read more on Jonathan Rea:
By Michelle Weir, Local Democracy Reporter