World War fallen remembered in Rathcoole
Rathcoole residents are being encouraged to pay their respects to those who perished during the World Wars at a new memorial project in the estate.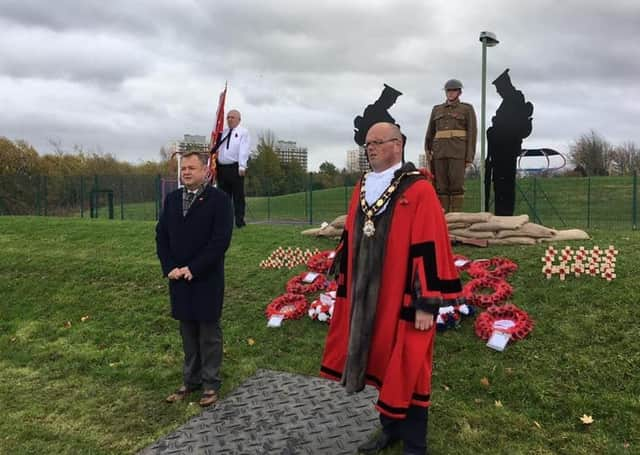 The Mayor of Antrim and Newtownabbey, Cllr Jim Montgomery, attended the service in Rathcoole alongside party colleague, Cllr Robert Foster.
Rathcoole 'Row on Row' is a community project currently underway in the estate.
It has been organised by the RATH Community Group and members of Dalaradia to recognise the men and women who sacrificed their lives in World War One and World War Two.
Due to Government coronavirus restirstions, the Royal British Legion is calling on members of the public to assist their campaigns as the pandemic forces many veteran volunteers to stay at home.
A spokesperson for RATH said: "Many Remembrance services have been cancelled. It is our aim to offer a small space within the estate for people to lay crosses in someone's memory.
"With the current regulations there won't be any public service as of yet. When ready, we ask that people lay their cross while social distancing and not to congregate in numbers around the space in the interest of public safety.
"The garden is an open space and our aim is to have it available to members of the community to lay crosses for one week, closing on November 7 at 11am.
"Rathcoole is the second largest housing estate in Europe. It is a travesty our estate does not have a memorial garden in memory of the great men and women of the World Wars. We hope one can be built in the future."
Rathcoole Row on Row opened on Sunday, November 1. It is located in Rathcoole Park on the field beside the play area.
Poppy boxes are available for members of the community who wish to lay a cross.
Thank you for reading this article. We're more reliant on your support than ever as the shift in consumer habits brought about by Coronavirus impacts our advertisers.Please consider purchasing a copy of the paper. You can also support trusted, fact-checked journalism by taking out a digital subscription of the News Letter.