Police launch winter road safety campaign
Police have launched this year's winter anti-drink and drug drive operation, with a range of safety and protection measures in place to take into account Covid 19.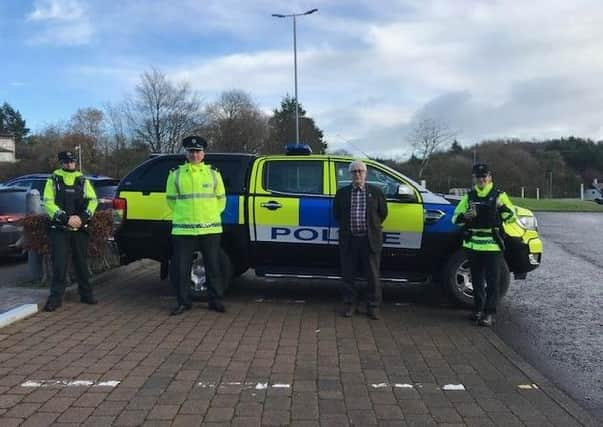 Road policing officers, local and neighbourhood policing teams will be working alongside Tactical Support Groups using authorised vehicle checkpoints.
Before and after each use, every handheld breathalyser is sanitised, and officers wearing PPE will attach a new sealed disposable straw before asking the driver to perform the test. Once the test is completed, the driver can either take the straw, or leave it on the machine to be disposed of. There will also have facilities available if any drivers present with C19 symptoms, or indeed claim to have symptoms.
Causeway Coast and Glens District Commander Superintendent Ian Magee explains: "Getting behind the wheel after consuming alcohol or taking drugs is selfish. It needlessly puts lives at risk and the consequences can leave families and communities devastated. If you take the unacceptable risk of driving after drinking or taking drugs, you can expect to be detected by police. You can expect to be prosecuted and lose your driving licence. If you cause a collision in which someone is killed or seriously injured, you can expect a custodial sentence."
In addition to authorised checkpoints, every driver or motorcyclist stopped by police, whether for speeding, using a mobile phone, or committing any moving traffic offence can expect to be breathalysed. Anyone involved in a collision or who police suspect may have consumed alcohol or taken drugs will also be tested.
Councillor Oliver McMullan, Chairman of Causeway Coast and Glens Policing and Community Safety Partnership, said: "The PCSP will reinforce the PSNI's message this winter by running a number of road safety campaigns over the coming months which aim to educate all road users in the Borough.
"Our residents and visitors need to know and understand the dangers and our campaign will cover a range of important themes including drink and drug driving, speeding, and using your mobile phone while driving and it will also help to raise awareness around agricultural vehicles on our roads.
"On behalf of the PCSP, I hope that everyone has an enjoyable holiday period, but please look after yourself and others, be smart and think safety first before you set off on our roads."