Here are the new councillors elected following Thursday's poll:
Armagh DEA – Scott Armstrong (DUP), Feargal Donnelly (SF), Sarah Duffy (SF), Ashley Mallon (SF), Thomas O'Hanlon (SDLP), John Óg O'Kane (SF).
Banbridge DEA – Glenn Barr (UUP), Ian Burns (UUP), Joy Ferguson (Alliance), Paul Greenfield (DUP), Chris McCartan (SF), Kevin Savage (SF), Ian Wilson (DUP).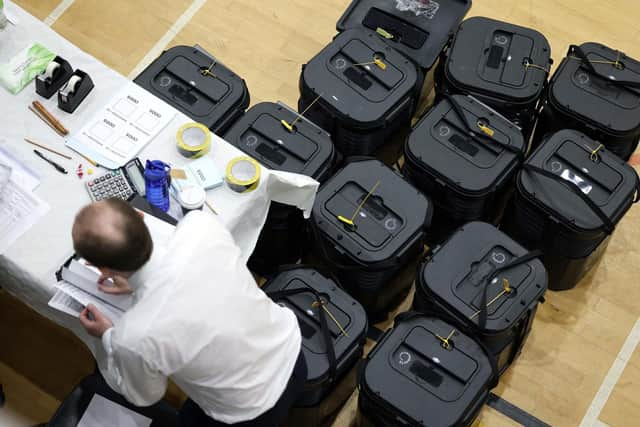 Craigavon DEA – Robbie Alexander (Alliance), Kate Evans (UUP), Jude Mallon (SF), Catherine Nelson (SF), Margaret Tinsley (DUP).
Cusher DEA – Paul Berry (Ind), Bróna Haughey (SF), Gordon Kennedy (UUP), Keith Ratcliffe (TUV), Gareth Wilson (DUP).
Lagan River DEA - Mark Baxter (DUP), Jessica Johnston (Alliance), Tim McClelland (DUP), Paul Rankin (DUP), Kyle Savage (UUP).
Lurgan DEA – Peter Haire (DUP), Keith Haughian (SF), Peter Lavery (Alliance), Liam Mackle (SF), Sorchá McGeown (SF), Stephen Moutray (DUP), Mary O'Dowd (SF).
Portadown DEA - Paul Duffy (SF), Julie Flaherty (UUP), Clare McConville-Walker (SF), Lavelle McIlwrath (DUP), Kyle Moutray (DUP), Alan Mulholland (DUP).
Meanwhile, the turnout of those eligible to vote ranged from the highest in Cusher District Electoral Area to the lowest in Lurgan.
Deputy Returning Officer Roger Wilson announced the turnout in each DEA as follows:
Armagh: Eligible electorate 22,800, total votes polled 13,789, percent turnout 60.48 per cent.
Banbridge: Eligible electorate 25,504, total votes polled 13,812, percent turnout 54.16 per cent.
Craigavon: Eligible electorate 20,449, total votes polled 10,929, percent turnout 53.45 per cent.
Cusher: Eligible electorate 19,358, total votes polled 12,370, percent turnout 63.90 per cent.
Lagan River: Eligible electorate 18,389, total votes polled 10,069, percent turnout 54.76 per cent.
Lurgan: Eligible electorate 26,807, total votes polled 14,299, percent turnout 53.34 per cent.
Portadown: Eligible electorate 22,318, total votes polled 12,416, percent turnout 55.63 per cent.