The issue relates to a planning decision taken at a meeting of Mid and East Antrim Borough Council's Planning Committee earlier this month involving properties proposed at Middle Road, Islandmagee.
The planned new residential development is located at Ballystrudder beside Islandmagee Football Club.
Senior planning officer Denise Kerr told the committee the current application is "intended to complete the overall development". She noted there was an objection from neighbouring Islandmagee Football Club.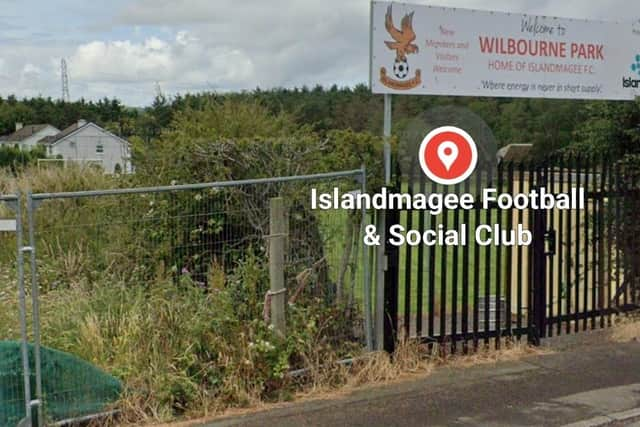 A report to councillors says: "Islandmagee Football Club have concerns with housing backing into their pitch and are of the opinion that a ball stop fence should be erected along the length of the back gardens."
The officer commented this was "considered to be unreasonable and unenforceable" as a number of residents would have to "take responsibility" for it.
However, Islandmagee Football Club says it would be willing to take responsibility for its upkeep. Club secretary Crawford Wilson said that the club would be willing to look after it.
"We could have worked out some compromise if it could have been put up to the football club boundary of the fence."
He stated the club remains willing to negotiate with the developer.
Serious Doubt
"It is totally unreasonable to expect us to spend thousands. This could threaten the future of the football club. The future of the club could be in serious doubt," he commented.
Crawford added matches have been played at the grounds since the 1920s with the football club established in 1955.
Noting the importance of the club's pitch to the area, he said: "We have two teams on it every Saturday. The school uses it and there are summer camps for the children."
Speaking at the meeting, the applicant's agent Damien McLaughlin said the proposal before the committee was "purely for change in house type".
"Previous permission saw no need to include a ball stop," he added. He continued that such provision would be "unreasonable and creating issues for future residents".
However, Islandmagee Football Club maintains a ball stop had been a condition in 2005 and should have been retained.
Michelle Weir, Local Democracy Reporter