The 'Keep Clear' sign was erected as part of ongoing work in the building of new homes in the Saintfield Road area of Lisburn.
It is understood that the 'Keep Clear' sign had been put on the road facing the wrong way around.
Downshire West councillor Uel Mackin said: "It was brought to my attention, with the road works on the Saintfield Road, seemingly completed, within half an hour messages were flying, that the road markings were in the wrong place.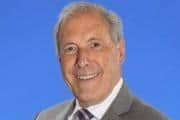 "There is no construction of the new housing development to take place until the road has been signed off.
"This is a massive blunder at the roundabout, there will be repercussions."
The Department for Infrastructure (DfI) has confirmed that the road safety markings have not yet been signed off.A DfI spokesperson said: "The works on Saintfield Road, Lisburn are being undertaken by a developer as part of a new housing scheme."An engineer for the developer has recently informed the department that a 'Keep Clear' road marking was laid in the wrong place and we are currently in discussions to have it removed and replaced in the correct position."Other road lining work by the developer is ongoing, but is subject to weather conditions."No road markings have yet been signed off by the department," the spokesperson stated.Ballygood Estates was required to make the re-alignment scheme in order to construct the new Plantation View development with 27 new build homes.
​Gibson Brothers, surfacing and white lining manager, Eugene McKenna explained: "This was a job that was sub-contracted out to another local company."The error was quickly identified as a mix up with outline drawings for the road markings."A new 'Keep Clear' marking has now been made on the road."We expect to have the incorrect road marking removed in the next coming days, weather pending."This should not affect any traffic and will be carried out during the night at minimal disruption," he said.