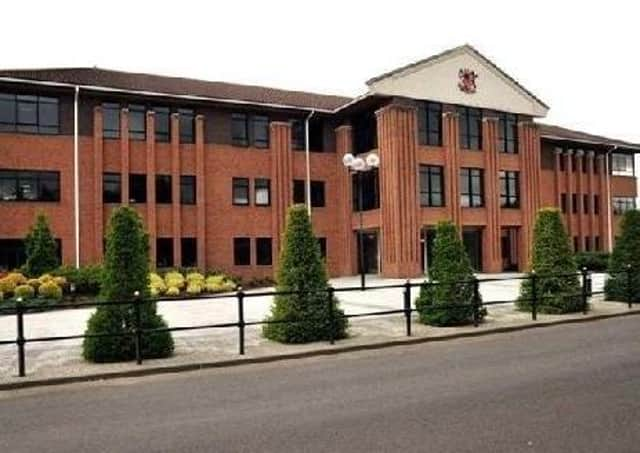 Dungannon councillor Walter Cuddy claimed the Irish language is a "cultural language" and should not come first on dual language street signs across the district of Mid Ulster.
Speaking at a meeting of Mid Ulster District Council's policy and resource committee the UUP group leader raised the issue during a discussion of council's draft equality scheme.
Council officers were seeking approval to go out to public consultation and had recommended some changes to the existing scheme including the addition of an inclusive communications statement and the extension of the policy review process from two to four years.
Councillor Cuddy sought to outline his dissatisfaction that on dual language street signs the Irish language is given top billing.
"Our equality scheme was agreed almost five years ago, back in 2016 and to me, equality is all about balance," said Cllr Cuddy.
"When you read the details of the existing scheme it is all about trust, respect and inclusiveness.
"To me, we have watched and heard about so many street signs being damaged. It tells me anyway, that we have a main language we all talk, 100 per cent of us use it everyday.
"We have another language that is a cultural language and is very important to a lot of people as well and we do support it with hundreds of thousands of pounds, and I have nothing against that at all.
"But when we have a scheme that has signage that the minority language here is first and the main language we all use is second, there has to be something wrong, that is not equality."
Councillor Cuddy continued by saying that after five years it is clear that all ratepayers want signage that is good for everyone and is respected.
"All I'm saying is that in this here, it might give us a chance to see how things have gone for us these last five years and see if we can try and get back to the main language that we all talk," said Cllr Cuddy.
"We have a secondary language and we have no problem as a party that it is there, it is important to a lot of people but it is a minority language and we should be sticking to the main default language.
"We will certainly be putting a response in Chair, we are open for discussion. We certainly don't want to see damage being done but can understand why damage is done.
"Sections of the community are not happy with what we have agreed and it is important to remember that equality is about bringing everybody forward, it is not about bringing the majority forward.
"We have to address this in this review."
The committee Chair, Councillor Malachy Quinn thanked Cllr Cuddy for his remarks though he explained he simply could not agree with what was said.
"While I respect your view, to describe Irish as a cultural language is not true in any way, shape or form, especially to the people I grew up with," said the committee Chair.
Councillor Phelim Gildernew also hit out at this description of the Irish language.
"The Irish language is in no way a cultural language," said the Sinn Fein councillor.
"I am very aggrieved at Councillor Cuddy, it is our native language, like it or not. Our town lands, our roads, our hills and valleys are all named using the Irish language.
"It is the native language of Ireland and I am proud to propose we go ahead with this."
His party colleague, Councillor Sean McPeake, said: "There is always a 'but' in the language discussion with some members of the Unionist party.
"They can agree but there is always an issue with the Irish language. The reason why the Irish language, a minority language, is given prominence is because it is line with the European Regional Minority Languages best practice.
"If you want to promote an indigenous language that is under threat you give the language prominence.
"That for me is right and I will certainly be resisting any change that may be coming from Unionists."
Cllr Cuddy then responded by telling the chamber that there is a language that everyone speaks.
"We have 40 councillors and I would say there would not be 20 that could give you fluent Irish," said Cllr Cuddy.
"We are not saying take it off the signs we are saying English should be the default language it is the language that 100 per cent of us speak.
"We would like to get a conversation going with other parties to see if we can find an accommodation that we can move forward. We did it in the Dungannon South Tyrone legacy council.
"We had three languages there and we never had any damage done. We are talking about equality, not one community dominating over another.
"I never said to take the Irish language off any signs, I'm just saying we have a default language and that is what should be first on all signage."
Sinn Fein councillor Niamh Doris, said she was "quite disappointed" by Cllr Cuddy's remarks.
"The reason that people speak English all over the world is because the English invaded every country in the world, except for 22 of them," said Cllr Doris.
"That is the reason we don't speak Irish here and when there was a bit of funding put into Gaelic schools you can certainly see the revival of the Irish language.
"The proof is in the pudding in that we constantly see requests coming in for Irish language signs and if that doesn't show that constituents are looking Irish language signs, I don't know what does."
Her party colleague, Councillor Catherine Elattar said she was "dismayed and worried" by Cllr Cuddy's comments.
"There are lots of things I don't agree with, in all aspects of life but I don't go around destroying them because I don't agree with them," said Cllr Elattar.
"I think that remark is maybe a bit foolhardy. It is giving people a legitimate reason to say if you don't agree with the Irish language policy then go out and destroy a bi-lingual sign and I think that is wrong."
DUP Councillor Kim Ashton changed the topic of discussion somewhat as she asked why a large number of the district's Orange Order lodges were not on Council's list of consultees.
A council officer explained that Council started out with a "fairly long list of consultees" and as part of a "cleansing exercise around data protection" a number of these organisations opted to have themselves removed from the consultee list.
"I do hear what Cllr Ashton is saying and we will look at respective organisations from across the district as has been referred to," said the Council officer.
"We will look at the possibility of getting the consultation directly circulated to them."
The proposal to bring the draft equality scheme to consultation was then recommended by the committee with the decision set to be ratified at October's monthly meeting of Council.
Walter Cuddy: Ulster Unionist group leader, Councillor Walter Cuddy.
Adam Morton , Local Democracy Reporting Service