NI council plans to recoup £10m coronavirus budget shortfall
The coronavirus pandemic has forced Armagh City, Banbridge and Craigavon Borough Council to undertake a "major financial review" to address a £10 million budget deficit.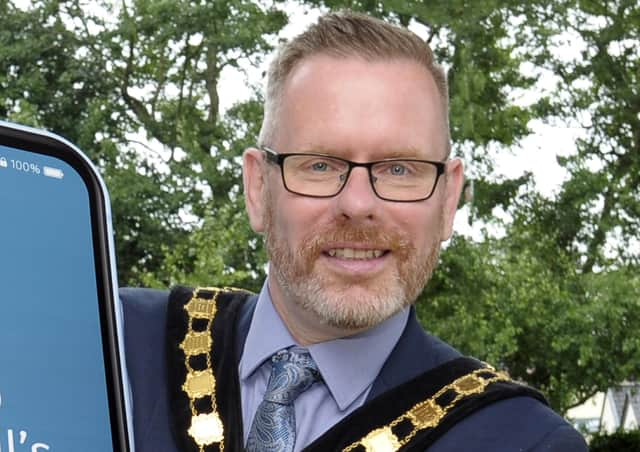 ABC Council Lord Mayor Cllr Kevin Savage. ©Edward Byrne Photography
Lord Mayor Kevin Savage said ways to cut expenditure and modernise services will have to be found.
As well as the need to address the immediate financial difficulties, concerns have also been raised around the long-term financial pressures that will follow.
The council has described the shortfall as a "direct result of the economic impact" of the coronavirus crisis.
Councillor Savage said: "As with all reviews this is not merely about making cuts, it is about taking the opportunity to progress as an organisation, modernise services and transform operational practices through cost-effective measures.
"Ultimately this review will enable Council to capitalise on the knowledge gained throughout the pandemic, to enable operational transformation of services into the future."
Cllr Savage said the aim of the review is "to make cost saving now to address our immediate deficit," and look to the longer term to modernise service provision.
He added: "Post the councils merger in 2015 there has been an acknowledgement that greater rationalisation of expenditure is required to consolidate and perform more cohesively as an organisation.
"There is no doubt this is significantly challenging both politically and financially, however with a greater emphasis on collective thinking, there is the ability to reform as an organisation and move progressively forward to benefit the citizens and businesses of this Borough".
In a statement, ABC Council said: "Key decisions relating to the future of council estates, reform of service delivery, partnership arrangements, and current operating models are all being financially assessed."
In May this year, a body representing local council chief executives told a Stormont committee that councils were incurring around £1 million in new costs each month – including the cost of proving protective equipment to frontline staff.
David Jackson, chair of Solace NI, said: "Some councils estimate that when this bites in the summer months – probably around August – in a world of no assistance, councils will either move into technical insolvency or will have to take quite severe measures to maintain most essential provision."
At the time, one council suggested it would need to implement a rates hike of up to 30% in future, to "claw back" some of the income it had lost.