Robin Swann: We will do our best to fight this virus, but it will be a long haul
This week has ended with the scale of the Covid-19 threat being underlined in stark terms.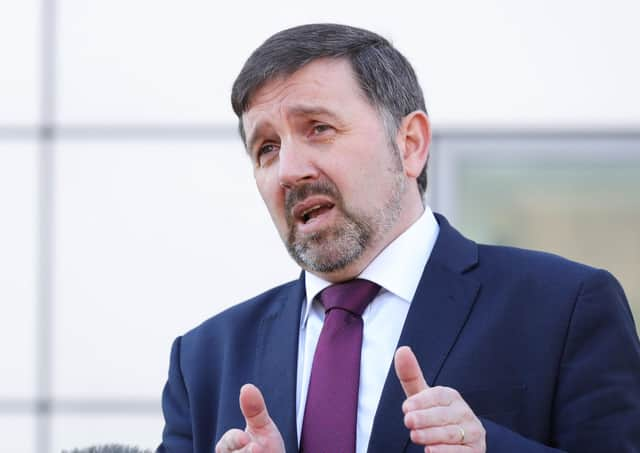 Press Eye - Belfast - Northern Ireland - 14th April 2020 - Health Minister Robin Swann pictured at the Agri-Food and Biosciences Institute. Photo by Kelvin Boyes / Press Eye.
A total of 36 deaths in Northern Ireland have been reported by the Public Health Agency in just two days.
And new figures published by NISRA show the toll being taken across our community, including in our care homes.
My heart goes out to all the bereaved families. We must always keep them at the forefront of our minds.
I welcome the steps NISRA has taken to publish information on deaths in care homes.
It is in the public interest for published statistics to give as full a picture as possible. We need maximum public awareness on Covid-19's impact.
The Health and Social Care system is working hard to support care homes.
Evidence from many countries shows that care homes are very vulnerable to Covid-19.
We therefore have to keep doing all we can to protect them and to demonstrate that this sector is as valued as any other.
That includes testing any care home resident or staff member who is displaying Covid-19 symptoms.
We will continue to do our very best to fight back against this virus. There are no quick fixes to this, despite what you might hear from some quarters. We have to realise we are in this for the long haul.
There has been some commentary about how well Northern Ireland is doing in terms of keeping our people safe.
The vast majority of people here continue to do the right thing on social distancing and I want to thank them for that. Staying at home, keeping our distance, washing our hands – this is saving lives.
We need to keep at it. The last thing we need is for any complacency or "lockdown fatigue" to set in.
These are crucial days. As our Chief Scientific Advisor Professor Ian Young has stated, the situation remains on a knife edge.
I would therefore urge everyone to avoid speculation on our position. Comparing our statistics and our actions – favourably or otherwise – with other countries or regions is premature at best.
Let's not be distracted from what we have to do at this time.
Of course, we will at some stage have to face up to difficult discussions on whether particular restrictions can be eased. That is for the future. At this moment in time, we have keep on our current path, adhering rigidly to the social distancing rules.
But the time will come for those discussions and decisions. Simply maintaining the current lockdown indefinitely will have serious repercussions for many people's mental and physical well-being.
There won't be any easy options.
However, we have been through tough times before as a society and I know we will get through this too.
Our job now is to stick to the rules and stick together.