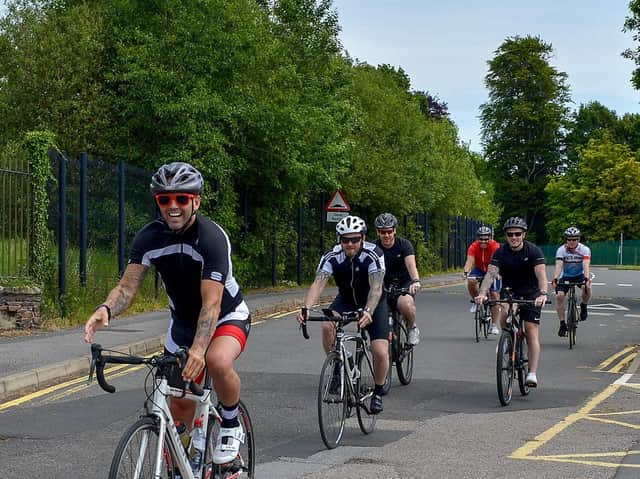 Cyclists.
Alliance Party representative, Councillor Peter Lavery, called on Armagh City, Banbridge and Craigavon Borough Council to take a more proactive role in local active travel and has asked that time be set aside during July's meeting of Council's planning committee to discuss the issue.
"It has been great to see an increased number of people out cycling during the past few months," said Cllr Lavery.
"We as a public body need to be proactive and collaborate with experts to create ideas and put plans in place to harness this renewed enthusiasm for the long term.
"Looking to the future, Alliance believes that government needs to rebalance funding away from roads and into more sustainable transport forms so that an increased number of transport choice are viable for residents.
"This would include integrating public transport by creating links between the bus and rail network, car users and cyclists."
Noting recent announcements from the Department for Infrastructure relating to cycle lanes and greenways, Cllr Lavery asked why this borough should not enjoy the same amenities.
"The point also need to be made that when it comes to investment in projects like greenways and cycle lanes there is more to Northern Ireland than just Belfast and Derry," he said.
"Although I welcome investment in those cities, we in the ABC Council area are the second biggest in terms of population so we cannot be left behind."
A spokesperson for Armagh City, Banbridge and Craigavon Borough Council said Council remains committed to active travel.
"Armagh City, Banbridge and Craigavon Borough Council is committed to active travel," said the spokesperson.
"Our Corporate plan outlines a number of short term outcomes to ensure, 'There is understanding of and respect for the contribution of the built and natural environment and the role it plays in improving the health and vitality of urban and rural communities, their sense of place, character and identity'.
"And, 'Our physical and environmental assets are accessible. Everyone appreciates and takes responsibility for their protection, preservation and enhancement'."
The spokesperson continued: "In addition to a number of active travel projects already completed, the Council is continuing to develop and deliver initiatives to allow it to meet these objectives.
"Active travel is a unique resource as a potential driver for economic regeneration and user well being and the council is currently looking at 'The One Path' initiative in order to discuss and understand the issues people face when using shared paths and to collaboratively develop ways which help people to better share the space.
"The Council is currently investigating the possibility of delivering a Landcare project in the Carn, Seagoe and Charlestown industrial areas of the Borough with the aim of developing the infrastructure around existing walking and cycling networks.
"The Council fully understands the importance of implementing active travel within our infrastructure and is open to exploring all options to help benefit the lives of all who live, work and visit our Borough."
Adam Morton , Local Democracy Reporting Service