Candice Tosh: The funeral will take place today for 15-year-old 'kind gentle soul' who died near her home
The funeral will take place today for tragic 15-year-old Candice Tosh.
Watch more of our videos on Shots! 
and live on Freeview channel 276
Visit Shots! now
Her funeral service will be held in Ballysally Presbyterian Church in Coleraine today (November 13) at 1pm followed by cremation at Roselawn Crematorium, Belfast at 4pm.
It adds that Candice Ann Louise died on November 4 'suddenly as the result of an accident' and is the 'darling daughter of Bryan and Diane, loving sister of Adam, Bryan and Peyton and dearest granddaughter of Annie and Campbell Tosh and Maimie and the late Bobby McCloskey'.
The notice adds: "Deeply regretted by her loving family, entire family circle and her special friends Nicole and Courtney".
A Gofundme started to help the parents of teenager Candice Tosh has now reached more than £5,000.
Police had been called to the scene of a serious one-vehicle road traffic collision which happened in the Macosquin area on November 2.
Inspector Craig said: "Shortly after 12.50pm, police received and responded to a report of that a teenage girl had been struck by car on the Dunhill Road.
"Colleagues from the Northern Ireland Ambulance Service also attended the scene, and the girl was taken to hospital for treatment for her injuries."
However, the teenager failed to recover from her injuries and passed away.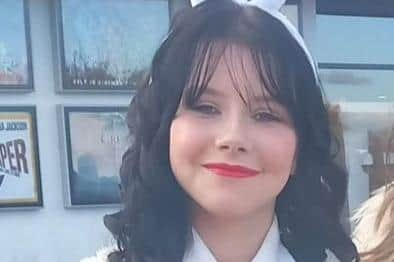 A post from Coleraine College said: "Our return to school today was greatly saddened as we paid tribute to our beautiful pupil Candice Tosh who tragically died at the weekend.
"Candice was a kind gentle soul with an outstanding talent in Art.
"Candice will be sorely missed by the school community and in particular by the staff and pupils of the ASPIRE centre. Here Candice found peace and a safe haven in which to develop and to express herself.
"We would like to extend our sympathy to her parents, her siblings and all the family. Candice will always have a place in our hearts".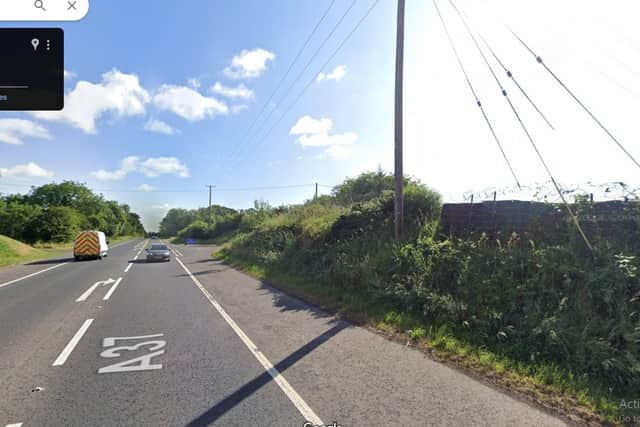 Her father Bryan Tosh posted an emotional tribute to his daughter on Facebook that he had "learned so much" from being her dad and that he is "struggling to accept" what has happened.
He further wrote that he "promised to make Candice proud" of him and he asked her to look after her siblings.
The heart-breaking message finishes with a promise to love 'Candybell' forever and has generated a huge outpouring of sympathy messages.
A post from Leanne Shirlow who started the GoFundMe explains: 'Our friends Bryan and Diane's young daughter Candice has sadly passed away we as friends want to support them in anyway we possibly can, so can everyone please keep them in your prayers and give them what yous can to support them through this awful time, we as a football club have already started things behind the scenes to help and any donations would be so greatly appreciated, thank you'
Another post from Studio7 Coleraine reads: "Most of you will have heard of the awful tragedy which has occurred this week, where a local teenage girl Candice was involved in an accident near her home.
"Candice tragically passed away yesterday, sending shock waves of grief and mourning through the whole community and beyond.
"I have asked for permission from their friend who has so kindly set up this fundraiser, if I could share it onto this page in hope that we can all pull together to show our love and support to Candice's Family, and to hopefully help alleviate some of the financial pressures they face during this terrible time of grief and shock.
"Candice's Mum and Dad are two of the best and completely devoted to their beautiful children.
"Candice's dad works tirelessly within the youth football community in the town and I've watched him recently put so much effort into the children he has coached and nurtured so so many kids with encouragement through football coaching. This family deserve all the help, love, prayers and support they can get at this awful time.
"If you can, please donate to this fundraiser - no matter what amount. I'm sure the support will mean more to them than we will ever know.
"Our thoughts and prayers are with Candices parents Bryan and Diane, her siblings and the wider family and friend circle at this heartbreaking time
Rest In Peace Candice, precious girl".
In another post online, Dervock Football Club said: "We as a club are heartbroken today as our player Bryan Tosh, has had to say goodbye to his daughter, Candic
"There are no words we can express that can convey how sorry we are.
"We would like to pass on our condolences to Bryan, Diane and the entire family circle on the passing of Candice and know that you are all in our thoughts and prayers".
Another message posted online from Crindle Stables says: "It is with a heavy heart and great sadness that we have heard the sad news of Candice Tosh passing away. God only takes the best.
"Candice was greatly involved at Crindle Stables with the horses and the children. She provided invaluable help with BRIDLE (bringing riding into disabled lives equally).
"As Granny Jean said she was such a great help and was amazing with the children. Candice was a very quiet young lady but one week she left her signature brown coat behind, we said we were going to sell it, and boy she laughed hard.
"Candice helped everyone that needed help her cousin was here a few weeks ago and she was laughing at how scared he was as she knew herself there was nothing to be afraid off. When Candice first came she had on her ear muffs, but it was not long until they were no longer needed, she felt safe enough here to leave them at home
"Candice loved the horses and she loved drawing & was often found drawing for the kids in the cabin.
"We are absolutely devastated by this news and we extend our greatest sympathy to her mum Diane, dad Bryan and all her family & friends.
"God only gives his special children to special parents.
"Candice's mum Diane & dad did their utmost to do what helped Candice, she loved horses and this was how we had the privilege of knowing this beautiful girl.
May God comfort you all at this time knowing Candice is safe in the arms of God."
They said: "The Club and everyone involved would like to express their deepest condolences and sympathies to Former Crues player Bryan Tosh and his family on the very sad news on the passing of their daughter, Candice
"Your in all our thoughts and prayers during this very difficult time".
And Coleraine and District League ·posted: "The Coleraine and District League Management Committee would like to express their deepest condolences and sympathies to Dervock FC player Bryan Tosh and his family on the very sad news received today on the passing of their daughter, Candice.
"Your in the whole leagues thoughts and prayers during this very difficult time".
And a touching obituary from James Lucas posted online says: "It is with heavy hearts and profound sadness that everyone associated with Portstewart Town Football Club extends their deepest condolences to Dervock player Bryan Tosh and his family.
"The news of the untimely passing of Bryan's beloved daughter, Candice, has cast a sombre shadow over our community, and our thoughts and prayers are with him during this exceptionally challenging period.
"In times of joy and triumph, football clubs and rivalries may define us, but it is in moments of tragedy and despair that we come together as a united family. The bond that connects all of us in the footballing world is not just about competition, but also about compassion, empathy, and solidarity.
"Bryan Tosh, a fellow player and member of the broader footballing family, has faced a heartbreaking loss that no one should ever have to endure. Candice's passing leaves an indelible void in the lives of her loved ones, and our club shares in the grief of the Tosh family.
"We understand that words alone cannot alleviate the pain and sorrow that Bryan and his family are experiencing, but we want them to know that they are not alone in their journey through this darkness.
"We send our most sincere and heartfelt condolences, hoping that Bryan and his family can find some comfort in the support and love of those who stand with them.
"The Portstewart Town Football Club stands as a testament to the unity of the footballing community, and we are here to offer our unwavering support, not just as fellow players but as friends and as human beings.
"In this difficult time, may the Tosh family find strength and solace, and may Candice's memory be a source of inspiration and love that endures through the passage of time. "Our thoughts and prayers remain with Bryan Tosh and his family, and we are here to support them in any way we can".