Larne Line fare increase: Consumer Council urges Translink to listen to passengers' concerns
Recent fare increases on the Larne railway line could have been introduced on a 'staged' basis to minimise the impact on passengers, the Consumer Council has suggested.
Watch more of our videos on Shots! 
and live on Freeview channel 276
Visit Shots! now
The comments follow a restructuring of rail fares in Northern Ireland by public transport operator Translink. The changes, which came into effect on November 6, saw the price of a single journey from Larne to Belfast rise from £8.20 to £9.60 – an increase of around 17 percent.
A number of other routes were also affected, with increases ranging from 20p on a single ticket from Portadown to Belfast to £1.30 on a journey from Antrim to Belfast. The Larne line had the biggest increase of £1.40 on a single ticket.
A Translink spokesperson said the price hike – the second to affect the route this year following a network-wide increase in March – was due to reduced funding levels for public transport from the Department for Infrastructure, following the Northern Ireland budget allocation. "Translink is taking steps to restructure its rail fares to create a standardised pricing structure across the NI Railway's network," the spokesperson added.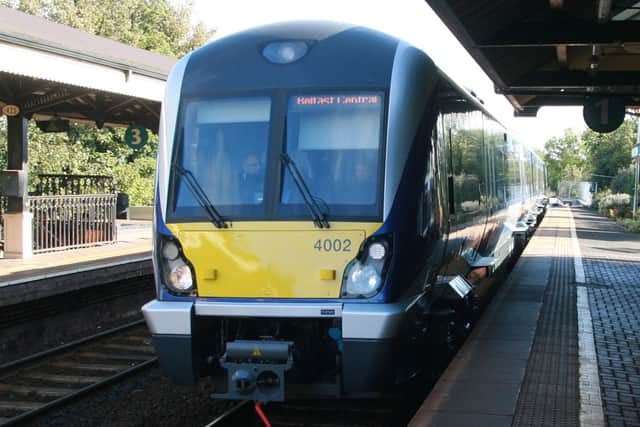 "The new structure will see fares more closely aligned on a cost per mile basis across the network, which will mean that route subsidies are consistent across the network.
"Around half of adult single fares for passenger journeys will be unaffected; however, some routes/journeys have historically received higher levels of subsidy and fares have been kept lower. These will now follow a standardised pricing structure."
Translink confirmed there will be no increase in iLink fares, while yLink cards – free to all 16 to 23-year-olds – will also continue to offer 50 percent discount on adult fares.
Commenting last week, David Cowan, Translink's director of commercial operations, said: "We have carefully carried out this review and worked hard to keep any increases to a minimum. Typical increases will be around 50p on a standard adult single fare.
"We understand for some, this will be unwelcome news; previously, our funding levels allowed us to support these inconsistent fares across the network. However, with reduced funding levels we have had to make these adjustments, given the pressures on Translink finances."
Regarding service frequency on the line, the public transport operator said it keeps all its services under continuing review: "As with any requests for additional services or alterations to existing service provision, passenger demand, operational costs and funding are taken into account."
However, the increases have been met with frustration by the Larne Line Passenger Group, which was formed in 2005 and has since lobbied for new trains, better timetables and enhanced park and ride facilities along the route.
Highlighting that the line had already seen fare increases in March, a statement from the group said: "The group feels the Larne Line has again been targeted by fare rises unfairly.
"The Larne Line cannot be costed in terms of straight miles as the geography of the railway journey from Carrickfergus to Larne means that the train does not travel on a straight line, unlike for example the Bangor Line. This had always been recognised by Translink and exception had been made.
"There is unfair competition in Larne between trains and buses, which now has left the train at disadvantage – a bus single fare costing £3.90 less than the train.
"Moreover, the main reason why these increased prices are unfair and disproportionate is that the line suffers, in particular from Whitehead to Larne, with a very poor service, whose frequency of trains was cut back in 2015 when Translink had to introduce timetable cuts (again mostly on the Larne Line) to reduce operating costs."
LLPG chairperson, Elena Aceves-Cully also expressed concerns over the introduction of the increases, commenting: "We met with Translink on October 25 and asked for information on the fare increases; we were not provided with specific information."
"The LLPG would like to hear from passengers who want to voice their discontent about the new fare structure by joining the LLPG Facebook group or emailing [email protected]."
The Consumer Council, meanwhile, urged Translink to listen to passengers' concerns over the cost increase. Richard Williams, head of transport policy at the consumer body said: "The standardisation of the Northern Ireland Railways fare structure means all routes are now charged by miles travelled. This is a fairer method of setting fares and is easier for customers to understand. Unfortunately, the recent standardisation of the fare structure was accompanied by an increase in fares on many rail routes.
"Fare increases are never easy for consumers and are particularly difficult at this time as many other costs are increasing. Consumers consistently tell us that after convenience, cost is the most important matter when using public transport.
"However, this fare increase is a consequence of the funding pressure on public transport. So, while it will be a disappointment for rail users who are affected, it is important that Translink is adequately funded to provide services.
"During the consultation about the recent fare standardisation review, the Consumer Council identified a small number of significantly high fare increases, including on the Belfast to Larne route, and recommended that these large fare increases be staged over future fare revisions to mitigate the impact to the travellers using those routes.
"As this did not happen, we have been in contact with the Larne Line Passenger Group and will encourage Translink to listen to their concerns."