Cheaper pints of beer could be on the way thanks to new scientific discovery
A team of US scientists have worked out how to eliminate excess foam when pouring a beer - a discovery which could mean cheaper pints in the future
Watch more of our videos on Shots! 
and live on Freeview channel 276
Visit Shots! now
Cheap pints of beer could become a reality, thanks to a new discovery by scientists. Despite prices of nearly everything rising rapidly over the last year, a group of American scientists have worked out how to extinguish too much froth from  the UK's favourite alcoholic drink.
The foam crown is generated in the first moments of pouring a beer, with pressures and temperatures producing most of it. But scientists found that by using a new type of tapping system which operates "bottom-up" by using a nozzle to push up a magnet, much less foam is produced than normal tapping.
The new system could mean pubs, bars and restaurants could serve pints a lot cheaper in the future. The current cost of living crisis has pushed the average price for a pint in the UK up to £5.50, with some charging more than £8 for the golden drink.
Industry experts have said that the prices could soar to over £9 in the summer. Lead author Dr Wenjing Lyu, of the American Institute of Physics, said: "This will help in controlling foam formation, reducing consumption and pouring time and improving the overall efficiency of the process."
The findings shed new light on why most people prefer a cold beer to a warm ale. Foam is important in the beer industry, and who can imagine a Guinness without the foam crown -  it also adds to the aroma so much enjoyed by beer connoisseurs.
But no one likes getting served a beer with too much foam. Sometimes even so much that the urge to return it for a new one sets in.
The complex connections between beer components, the tap or container from which it is poured, and the glass has been a mystery to experts and scientists alike for decades. The new research, published in the journal Physics of Fluids, provides the most accurate predictions ever discovered on how froth forms.
When the magnet at the bottom of the new tap rises, it creates a temporary inlet, and moves back into place as the glass fills and the pint is ready to drink. A series of tests to establish stable pouring conditions were  conducted by the team, before they developed a computer model which was validated through a series of experiments.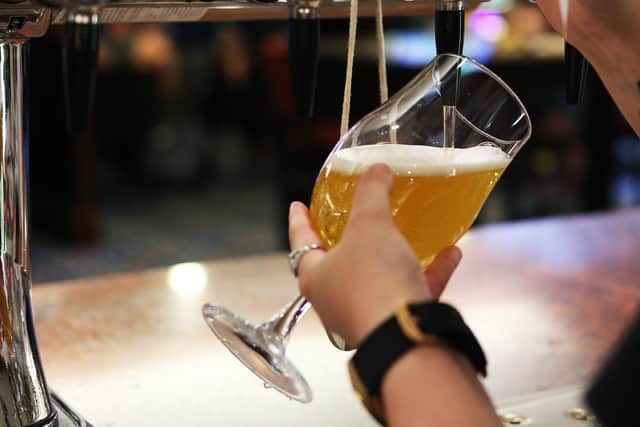 The tests showed that beer's liquid phase starts after the production of the foam head, and not before. The discovery was mainly determined by the size of bubbles, which caused the foam to slowly decay.
It took around 25 times longer to fully fizzle out than it did to form. Dr Lyu added: "By accurately simulating the foaming process, our model can help to improve the quality of the final product, reduce costs, and increase productivity in industries such as food and beverage, chemical and others."