Orlando Bloom meets President Zelensky praising 'the strength' of the Ukrainian people amid Russian conflict
President Zelensky met with Lord of the Rings star Orlando Bloom in a move that 'sends a big message'.
Watch more of our videos on Shots!
and live on Freeview channel 276
Visit Shots! now
Lord of the Rings actor Orlando Bloom has praised the strength of the Ukrainian people during a meeting with Ukraine''s president Volodymyr Zelensky. Bloom is a Unicef Goodwill Ambassador, and travelled to Kyiv for his first visit to Ukraine since 2016. Bloom encouraged Zelensky to "go win" the war.
During the meeting Bloom, 46, told President Zelensky it was a "real honour to meet" him. Bloom said: "(It is) so encouraging in so many ways to see just the remarkably stoic nature of the people of Ukraine. And of course, your messaging that I think is reflected in their courage, and in their determination and in their perseverance and resilience.
"To see the children, to see in their eyes, it's palpable the anxiety and yet, the strength of the Ukrainian people is something that is really awe-inspiring in truth and, of course, your messaging is the reason for that."
President Zelensky told Bloom: "We have a good country, we hold each other," adding "your coming sends a big message".
During his trip, Bloom, who has been a member of a Buddhist organisation since he was 16, read an excerpt of a message of encouragement from his Japanese mentor who wrote to the youth of the UK in 1994.
After reading the piece he said: "You have a strong heart and thank you for everything you do. I used to read this every day… I used to read it when I was a child just to try and give myself the courage."
Bloom shared a video of the meeting on Instagram, captioning the post: "The war is destroying the childhood of Ukrainian children. Thousands of schools in Ukraine have been damaged or completely destroyed. Almost 2.7 million Ukrainian schoolchildren are forced to study online or in a mixed format. About 1.5 million Ukrainian boys and girls are at risk of developing depression, anxiety and other psychological problems.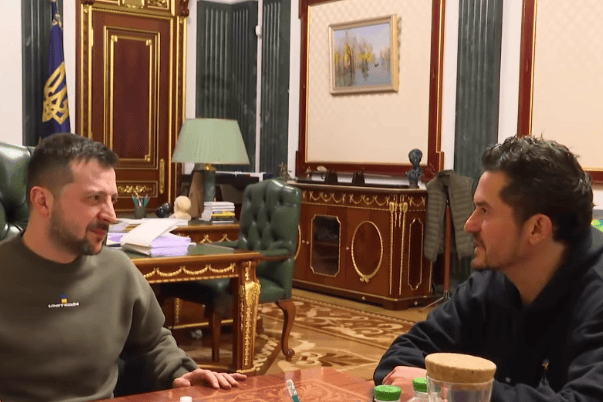 "We all know what this aggression has brought and how full-scale the world's efforts must be to stop it, to rebuild Ukraine after the war. During the meeting, we discussed humanitarian aid projects, issues of reconstruction focused specifically on the interests of children. "Unicef and our teams will work in several directions, bring victory closer and return a happy childhood to Ukrainian children."