Tesco slashes price of cooking oil and pasta in latest round of price cuts - full list of reduced products
Tesco has slashed the price of oil and pasta in its latest round of price reductions to combat the cost of living crisis.
Watch more of our videos on Shots! 
and live on Freeview channel 276
Visit Shots! now
Tesco has cut the price of vegetable oil and pasta to help combat the cost of living crisis. Alongside these reductions, the supermarket chain has also cut the cost of 28 cupboard essentials.
The retailer is the latest supermarket to drop the price of essential items, with the likes of Sainsbury's Aldi, Asda and Lidl joining the chain in cutting the price of milk by at least 5p.
Tesco is dropping the price of 30 products across its larger stores and online, with 15p off 500g and 1kg packs of own-brand pasta, 14p off its one litre vegetable oil and 15p off its one litre sunflower oil.
The price reductions come as grocery inflation leapt by more than 19% in March 2023 compared to last year, as energy and supply chain costs were passed on to shoppers.
Ashwin Prasad, Tesco Group's chief product officer, said: "As we see deflation coming through on key cupboard essentials such as pasta and cooking oil, we're pleased to pass on these savings to customers.
"We hope that by reducing prices on these thirty products which are bought week-in, week-out, we can help customers spend less."
Tesco price cuts - full list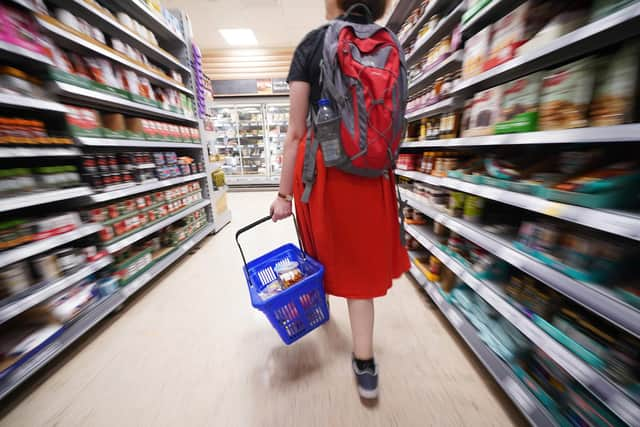 Tesco Lasagne Pasta 500G - old: 95p new: 80p
Tesco Quick Cook Spaghetti Pasta 500G - old: 95p new: 80p
Tesco Fusilli Pasta 500G - old: 95p new: 80p
Tesco Farfalle Pasta Bows 500G - old: 95p new: 80p
Tesco Spirali Pasta 500G - old: 95p new: 80p
Tesco Short Spaghetti Pasta 500G - old price: 95p new price: 80p
Tesco Rigatoni Pasta 500G - old price: 95p new price: 80p
Tesco Whole Wheat Penne Pasta 500G - old price: 95p new price: 80p
Tesco Penne Pasta Quills 500G - old price: 95p new price: 80p
Tesco Spinach Farfalle 500G - old price: 95p new price: 80p
Tesco Macaroni Pasta 500G - old price: 95p new price: 80p
Tesco Whole Wheat Spaghetti 500G - old price: 95p new price: 80p
Tesco Whole Wheat Fusilli Pasta 500G - old price: 95p new price: 80p
Tesco Quick Cook Fusilli Pasta 500G - old price: 95p new price: 80p
Tesco Conchiglie Pasta Shell 500G - old price: 95p new price: 80p
Tesco Tagliatelle Pasta 500G - old price: 95p new price: 80p
Tesco Tricolore Fusilli Pasta Twists 500G - old price: 95p new price: 80p
Tesco Linguine Pasta 500G - old price: 95p new price: 80p
Tesco Organic Whole Wheat Spaghetti Pasta 500G - old price: £1.35 new price: £1.20
Tesco Organic Whole Wheat Fusilli 500G - old price: £1.35 new price: £1.20
Tesco Organic Spaghetti Pasta 500G - old price: £1.35 new price: £1.20
Tesco Fusilli Pasta Twists 1Kg - old price: £1.65 new price: £1.50
Tesco Fusilli Whole Wheat Pasta 1Kg - old price: £1.65 new price: £1.50
Tesco Macaroni Pasta 1Kg - old price: £1.65 new price: £1.50
Tesco Penne Whole Wheat Pasta 1Kg - old price: £1.65 new price: £1.50
Tesco Conchiglie Pasta Shells 1Kg - old price: £1.65 new price: £1.50
Tesco Spaghetti Pasta 1Kg - old price: £1.65 new price: £1.50
Tesco Pasta Quills 1Kg - old price: £1.65 new price: £1.50
Tesco Pure Vegetable Oil 1L - old price: £1.99 new price: £1.85
Tesco Pure Sunflower Oil 1L - old price: £2.40 new price: £2.25