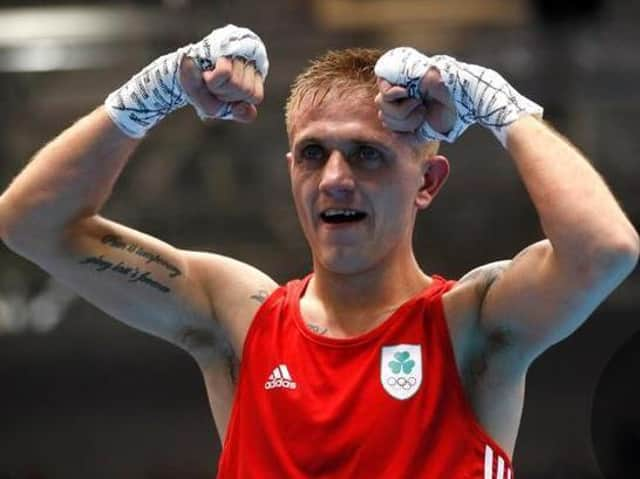 Lisburn's Kurt Walker
Up and coming featherweight boxer Kurt Walker, from Lisburn has been selected to represent Ireland in the 2021 summer Olympics in Tokyo.
Noel Reynolds, Head Coach at Walker's home gym, Canal Boxing Academy, explained: ''This is a great opportunity to help ensure that Kurt can have every possible chance of success in the games and follow in the footsteps of our last boxing Olympian, John Rogers in Munich, 1972.
''We appreciate that this is a difficult time for so many, but every bit of funding to help Kurt's cause would be greatly appreciated.''
Kurt Walker pictured with his gold medal
The exciting news comes as Walker started boxing at the tender age of just 10 years old, weighing in at a ''mere'' 27 kilos, but his coaches Jim Russell and Noel Reynolds saw the immense potential that he held and helped him achieve his first title at the age of 12, when he won an All Ireland title.
From then, the titles kept coming, and Walker is held as something of an inspiration at Canal Boxing Academy.
Reynolds said: ''Kurt supports Canal Boxing Academy immensely. He is seen as the person that all of the younger boxers, both male and female, aspire to. He is such a great role model and mentor who has helped so many kids get involved in all things boxing throughout his journey to date.
''Boxing has taught Kurt and the other boxers great skills in the ring, but also life lessons that are helping to mould a generation; such as discipline, respect, determination and dedication.
''After the Olympics, Kurt is hoping to turn professional which again will put him in great standing with his fellow boxers, but also for all of the people of Lisburn.''
To date, Walker has an impressive total of three Senior Titles, including 12 Nationals and was European Games Gold medallist in 2019.
The Lisburn sportsman, who is also a doting father to beloved daughter Layla, who was born three months prematurely last year but is now thriving, started off his run of major medals by winning bronze at the 2017 European Championships and European Union Championships gold and Commonwealth Games silver followed in 2018 before he took the biggest win of his career at the European Games in Belarus a year later.
At present, Walker is training full time at the IABA High Performance Unit, set up at Sport Ireland Headquarters in Dublin. However this does come at a significant personal cost for day to day living, as Reynolds explains:
''This is why we are seeking donations, or even better a main sponsor to help Kurt on his journey.
''With donations and sponsorship, it is sometimes quite difficult to see a return on investment, but with Kurt being a native of Lisburn, we have an incredible opportunity to help one of our own achieve their dreams, which will no doubt also have a knock-on effect to Lisburn itself.
''With recent events in Northern Ireland and the rest of the world, everything is so negative and this is a chance to shine a light on Lisburn through the hard work of Kurt and shine some positivity.
''Having your business name tied to this will help increase its public image, have the opportunity to showcase your product or service and will also give the personal sense of pride in helping a fellow Lisburn native and the city itself.''
If you are interested in donating towards Kurt's gold medal dreams, or are interested in sponsorship opportunities, contact Jim Russell at: 07719657628.