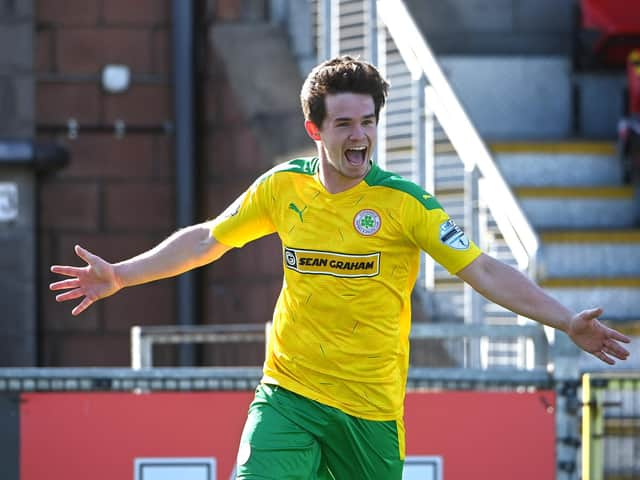 Cliftonville's Michael McCrudden celebrates scoring against Crusaders. Picture by Stephen Hamilton/Inpho
Michael McCrudden has been putting his money where his mouth is at Cliftonville this season.
The 29-year-old front man, who endured a tough spell at Derry City and initially struggled following his move to Solitude, has now scored 14 goals in 24 games for Paddy McLaughlin's side this campaign.
Those outstanding statistics include THREE hat-tricks while his four assists are further evidence he is returning to the form which made him one of the league's most sought after talents while at Institute.
The reason? Well, it's no coincidence the Top of the Hill man, who revealed he tested positive for Covid-19 earlier this year, has been playing through the middle.
"The last few seasons have been tough but I have always thought back to when I played my best football and that happened when I was playing through the middle," insisted McCrudden.
"The season in the Championship when we won the league with 'Stute, I was a centre-forward and the season after in the Premiership, again I was playing as a centre-forward. However, when I went to Derry I was playing on the left or right side of a front three and it was similar at Cliftonville when I first joined them.
"Even at times last season I was playing as an attacking midfielder but Paddy (McLaughlin) played me up front throughout pre-season games this season and I was scoring a few goals and doing the business. It was looking very positive until I got COVID just before the first game of the season and that really knocked me.
"Getting COVID knocked me in terms of my momentum and I was missing for a couple of games.
"When I came back we were playing a 4-3-3 formation so again I was playing on the left or the right and a lot of people outside of football would say, 'You are still playing up front' but it's not the same as playing centre-forward.
"However, over the last month or so since coming back into the side, we have been playing two up top and I'm obviously one of the two.
"I feel if I play up front I'll get chances and if I get chances I back myself to score goals. That's probably the reason why I'm now playing up front again."
Cliftonville's Michael McCrudden celebrates alongside Ryan Curran after scoring against Crusaders. Picture by Stephen Hamilton/Inpho
The one time Newcastle United starlet has struck up a deadly partnership at Solitude with another former Derry City player in Ryan Curran. The pair have scored over 30 goals in all competitions this season and McCrudden admits their double act is similar to the one he enjoyed at Institute with Joe McCready during the 2018/19 campaign.
"Curny has been our top striker all season, I have sort of been brought in to help him," explained McCrudden.
"We have worked really well together. We have a great relationship on and off the pitch, we're good friends.
"We have a great understanding on the pitch. I know how he likes to play and he obviously knows what I am likely to do so it's really working. It's very similar to myself and Joe (McCready) when we played at 'Stute.
Institute manager Paddy McLaughlin and Michael McCrudden with the Bluefin Championship trophy in 2018.
"Joe knew how I liked to play and I knew his game and the team bounced off us two at that time and it's something similar now at Cliftonville with Curny. The team is bouncing off us two up top and thankfully we are doing well."
This afternoon the North Belfast men travel to the Showgrounds to face Coleraine and McCrudden is hoping the Reds can finish the season on a winning note and secure European football which remains the club's top priority.
"We are in the most important part of the season now and there's no better time to be playing well than coming into the final furlong," he added.
"After beating Portstewart we are now into the next round of the Irish Cup but, to be honest, we have five 'finals' in terms of our remaining league games so hopefully I can carry my good form on for the next month or so.
"Losing to Glentoran a few weeks ago was a big one in terms of pushing for that automatic European position and securing second spot. We'll still try our best to get second by doing everything we can to win every game between now and the end of the season but if we can secure a European play-off position that would still be brilliant for the club and all the players after all their hard work.
"I don't think there is a harder working group of players in the division and it would be great if we could secure European football for next season. That has to be our aim and it would represent a great season for us.
Michael McCrudden receiving the 'Sodexo Championship Player of the Year' from Derek Coulter in 2018, after playing a starring role in Institute's title winning campaign.
"If we do secure European football then it would mean we wouldn't have much of a break but Paddy has said that he might give us a 'Monday night off'," he laughed.
The Waterside man's career has really taken off once again under McLaughlin's stewardship and his manager's understanding has played a major role in his upturn in form.
"Without a doubt Paddy has been a big player throughout my career," he insisted, "I know exactly the way he likes to play, how he likes his players to play and what he likes as a manager.
As a player, that's great to know. I know the things I have to do, the things I can't do and the things that will get me an ear full from him (laughs).
"But jokes aside, knowing all that is definitely a positive but he's an easy man to talk to, we definitely have a good working relationship."
McCrudden is back enjoying his football and this month hit a real purple patch, scoring nine goals in seven games in all competitions, including two hat-tricks. Those trebles have added pressure in terms of expectation but the striker is relishing the challenge.
"I'm putting a bit of pressure on myself now by scoring a two hat-tricks in April," he laughed, "But, no, it's nice to go home with a match ball and have all the boys sign it. It's just about being in the right place at the right time. I'm getting that bit older so I'm starting to know where to be and when.
"I'm definitely enjoying things. Don't get me wrong, it was hard not playing and watching the boys out there on a Saturday. I found that tough but I always felt that if I got a chance then I could stay in the team and that's what's happened. I'm delighted to be helping the team as well by scoring a few goals.
"Scoring goals means that I'm enjoying that a bit more, any striker would tell you that, but overall I'm just enjoying my football at the minute."
As for McLaughlin, he's delighted that his front man is back to his goalscoring best and hopes McCrudden can maintain his current form throughout the run-in.
"There were people out there foolish enough to doubt him in his first year here," said McLaughlin. "They were doubting if he could do it here and doubting if he was a sensible signing. Those boys have gone quiet now and they've been quiet for a while because Michael's been flying.
"He's on fire at the minute and we're seeing the true Michael McCrudden. With the class that he has, it was only a matter of time before it started to shine through and it's shining through at the minute and long may it continue.
"I'm delighted for him personally. I said a few weeks ago that his character and personality in the dressing room was phenomenal when he wasn't playing. He never showed his frustration and disappointment, he kept getting on with it. He's the first man to fight the corner of any player when it's not going their way and, fair play to him, he got his chance and grabbed it with both hands."
Derry City's Michael McCrudden gets away from Cork City centre-back Dan Casey in 2019.