The call comes after the Secretary of State Chris Heaton-Harris visited the Ballycastle Road ground.
Ms Sugden said: "The Sub Regional Stadia Programme for Soccer was envisaged more than ten years ago, finally being rubber-stamped in 2021. However, in the absence of an Executive, the programme was never implemented, leaving clubs' plans in an uncertain position.
"The Secretary of State was able to see and hear himself the work that Coleraine FC requires to fulfil its ambitions of creating a modern facility that creates improved connections with the local area.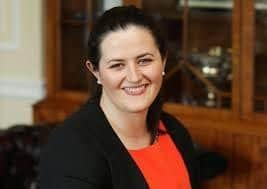 "He will also have seen the existing level of support that exists at the club and the passion its fans and staff have to achieve this.
"It is good that Mr Heaton-Harris has taken this interest in local football in Northern Ireland and it has hopefully underlined the need to support all our grassroots clubs via the Sub-Regional Stadia Plan for Soccer. I spoke personally to him and have written to officially appeal for intervention by his office.
"This programme goes beyond the simple bricks and mortar of the improvements. Football clubs across the country have deep and important community links.
"Coleraine in particular have impressive plans for their ground. The plan is ready to go, but both the absence of an Executive, and the fact they were unsuccessful in their bid for Levelling Up funding, is undermining all the good work that has gone into it."