The Maiden City Soccer coach, who has completed the full circuit of senior clubs in the North West side - Derry City, Institute, Coleraine, Limavady United and Sligo Rovers - was one of those front men who not only scored goals but also created chances for others, something fans don't always appreciate.
Parkhouse, who scored the opening goal on the Irish League's famous 'Morgan Day' when Glentoran, thanks to Chris Morgan's late winner on the final day of the 2004/05 season, pipped old rivals Linfield to the title.
The 38-year-old, who retired in 2014 to spend more time with his family, reveals he missed out on potential moves to Norway and England due to injury or unfortunate timing while recalling being in a dressing room when a current Championship manager wasn't best pleased that his League of Ireland side was losing a charity match to 'Westlife'!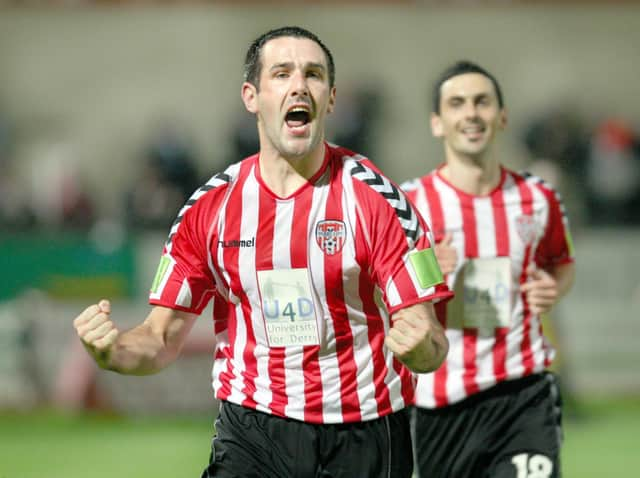 How did it feel when coming back from Man City in 2000?
"Look, it doesn't matter what level to come back to, if you aren't right mentality and you don't feel good about yourself, then it doesn't matter what job you are in because you aren't going to perform to the best of your abilities. If you are feeling good and other people are telling you that you are good, then you perform better.
"So, from people telling you have great potential and you can do this and that; that wasn't really getting through to me and maybe I was stuck in a rut, just laying around the house and training two nights a week instead of the full-time stuff that I had been doing. I remember that period being tough.
"Then all of a sudden finances came into play. Suddenly I was getting a lift from Top of the Hill to go to Belfast to do some manual labour and coming back to train with Derry City. It definitely was a shock to the system.
"I suppose a lot of people are doing plenty of reflecting during lockdown and, yeah, I've thought a lot about my career in terms of what way it should and could have gone but coming back from England is one of the only real regrets I have.
"When I was released by Manchester City, they offered me the chance to stay on and train as I still had a few months left on my contract and could have gone on trial but because I had a knee injury I told them I would go home for a few weeks but once you get home, you get the home comforts and then Derry City were offering me a deal. Although the money wasn't great, I just needed to feel loved again.
"Even when I left Derry to go to 'Stute, it was more about wanting to play. At Derry you had Liam (Coyle) and Gary Beckett there, players who were going to go down in the club's history as some of the best ever players and I just wanted to play.
"I probably couldn't comprehend why I wasn't playing as much and maybe I wasn't mature enough. I just expected to be playing but I was only 18 or 19 years old. In fact I had this same conversion with young David (Parkhouse) last year and reminded him there are not many 18-19 year olds leading the line at any level. Looking back, I was a bit naive in thinking that I should have been playing ahead of those players but when those players were injured I still wasn't starting and stuff like that can get you down.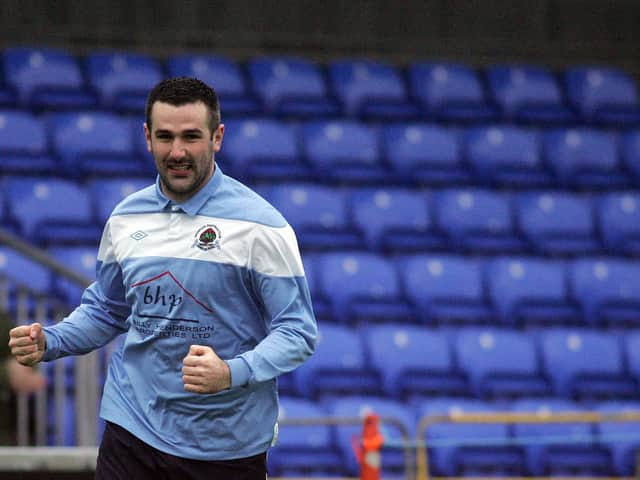 "But I remember going to 'Stute and after a few months they won promotion and even then I wasn't really playing well. I clearly remember saying to myself 'You need to get your act together'.
"It was never a case of going to pack the game in but I couldn't have kept going the way I was because I knew I was going to lose interest so I spent a serious amount of time in the off season in 2002 when 'Stute got promoted to the Premier Division, getting myself really fit and that helped me have a good couple of seasons that got me back on track."
What was your biggest achievement in football?
"When you look back, I would be well thought of by any club I played with based upon how I behaved when representing them and I know that might sound a bit cheesy but I feel that's my biggest achievement.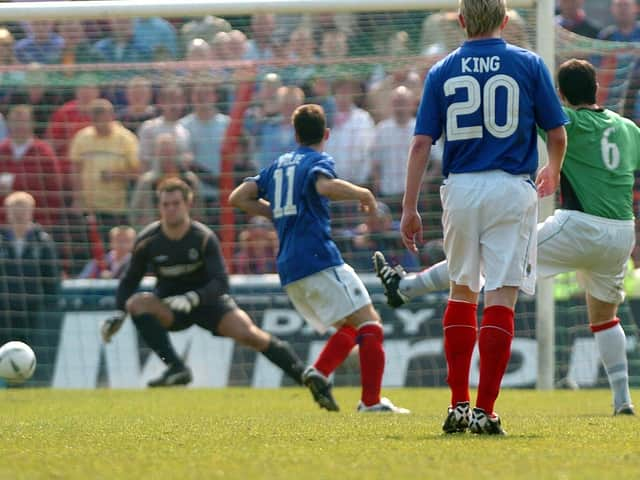 "I would have talked to people and had good manners and that takes you a long way. On the field I don't know. Obviously winning the league with Glens in 2005 was brilliant and that does stand out. If I was pushed I would probably say that title win but just in general I enjoyed being around most of the clubs and most of the people that were involved with them.
"Only last week I was out walking and an old boy asked me did I know that I had played for every north west club - Sligo Rovers, Finn Harps, Derry City, Institute, Limavady United and Coleraine? He asked if I knew anyone else that had done that. I couldn't think of anyone."
What made you decide in 2014 that it was the right time to retire?
"I had just turned 32 and I remember having a conversion with Stephen Kenny. He said because of the style of play I played that if I kept myself fit I could play until I was say 38 as my game wasn't about mobility, it was about bringing others into the game. However, my wee girl, Olivia-May, was born in 2010 and she had some issues. She was later diagnosed with ADHD and has some sensory issues and that's why I packed it in, to spend more time with my family.
"My wee boy, Stephen, was born in April 2014, the same time as we gained promotion, but I just thought 'You know what, Lisa (my wife) is going to need a hand looking after Olivia-May as she'll be taking care of our son too'. I haven't really told anyone that before but that's just the way it was. I remember joking with mates the first few years after it that if I wanted to, I could get fit and back playing senior football but it was never going to happen."
Lesser known fact about yourself?
"Not many people know this but I'd a few chances to get back across the water and the fact they didn't happen was actually out of my hands. When I was at Derry I had a move lined up to go to Tromso in Norway. I'd left my job in Belfast and told Derry I wanted to go and they were willing to let me go. The flights were booked and then the manager of Tromso was sacked the weekend before I was due to go over and sign, so that deal was dead.
"Then when I was at the Glens that first season, I had a really good pre-season and we played Crystal Palace and one of the Glens directors pulled me aside after the game to say 'I think we can get £150,000 for you from a few clubs lower down in England, would you go?' I had no agent or anything like that so I said 'yeah'.
"Glentoran were going to sort wages and stuff and were willing to sell me even though I was only there six or seven weeks but having scored two goals at Omagh Town I broke my leg in the same game. That was the end of that. Those two times stand out in my head as times I could have got away again as I was only 22."
Who was your toughest opponent?
"I remember playing against Gary Caldwell when he was at Newcastle United as a young player. He did everything as a centre-half, he could run, he could head, he could play and he could read the game.
"We were only young but I remember thinking 'God he's like a man, organising the whole team'. I don't know what age we were, maybe 16 or 17, but he was unreal. I also remember playing in a game against Everton at their training ground and Danny Cadamarteri and Francis Jeffers were coming back from injury and they played up front together and I think they beat us 9-0 or something.
"They were unbelievable together. I also remember playing against Crystal Palace in a friendly with Glentoran. Tony Popovic, the Australian international, was playing and he was a beast of a player."
Best Player you played with?
"That's a weird one because some of the boys I played with at (Manchester) City never made it to the levels of say, Joey Barton or a Shaun Wright-Phillips. In fact they were better than those two but for whatever reason in football, it just never happened for them.
"From my time at home I would probably have to say Liam Coyle. Sometimes when you play against teams who are at a different level, whether it's in Europe or in a pre-season friendly, you see it and Liam had that about him. You could see he could easily go to another level. It wasn't a matter of if he do it, you just knew that Liam wouldn't look out of place at a higher level."
"Recently I spoke to Philip Stevenson at Glentoran about trying to find footage of me scoring on my debut for the Glens against AC Allianssi in the UEFA Cup in 2004. It was a left footed volley from about 25 yards and I knew as soon as I hit it. It flew straight into the top corner
"That goal took a bit of pressure off me because I knew coming from 'Stute. Yes, I had belief in myself but Glentoran is a big club and you needed to announce yourself as such so that goal took the pressure off. I have tried to get footage of it but no one has been able to get it for me. Hopefully it will pop up at some point."
Biggest regret in football?
"My only regret would be that I didn't go back to Manchester City and go on a few trials. I don't dwell on it much, but yeah it was tough.
"When you come back, it's not like you think you are better than anyone but you do think that you should be able to play at this level with Derry or whoever. When that doesn't happen, you start questioning yourself and I know, having seen a few younger players who have come back, there's so many of them that drop out of the game."
Stand out funny moments during playing career?
"There's quite a few, but most aren't printable! One that I can say and does stand out was an incident years ago at Sligo Rovers when Paul Cook was manager. I was injured but for charity we played a junior side that Shane Filan from Westlife played for. It was during the League of Ireland mid-season break. Cookie said it was a just a wee game to get us going after a few days off and to make sure we didn't take it too serious, don't get involved in anything silly. In fact him and his assistant Gerry Carr were also going to play in the first half so it was very relaxed and a lovely evening.
"Well I think we were losing and I came in at half-time and Cookie was bouncing cups off walls and shouting and screaming and then, all of a sudden, he just shouted "We're a professional team and we're f****** getting beat by Westlife'. I think he lost the plot because he was wrecked after the first half.
"Well, when he shouted that the boys were trying not to laugh. I think we ended up beating them 6-2 or 7-2. Whenever we meet up and we have a good laugh and a giggle about it now but that really stands out to me, Cookie's big husky scouse accent shouting 'We're getting beat by Westlife'.
"To be honest, I also remember him after the game going around all the boys laughing and apologising that he lost it at half-time and it was soon forgotten."
Does management interest you in the future?
"I think so. Up until my father, Dai, passed away I was happy watching underage games and I have turned down working with senior clubs because family life just didn't allow it at the time. I was also offered academy roles at senior clubs.
"I'm not saying my coaching is at a level where I want it to be, but I know how to conduct myself with clubs. I was actually meant to do my UEFA 'A' License in June, which obviously would have taken me a step closer to being a senior manager, but I would think my next stage is to get my 'A' License and then look at things. I don't even know necessarily that I want to be a manager of a senior club, maybe coaching or something like that at a senior club would be better but I think I have something to offer.
"I know at Maiden City we have got aspirations of going senior and there's no reason why we can't do what 'Stute have done. That's something we are looking at further down the line."
A message from the Editor
Thank you for reading this story on our website. While I have your attention, I also have an important request to make of you.
In order for us to continue to provide high-quality and trusted local news on this free-to-read site, I am asking you to also please purchase a copy of our newspaper.
Our journalists are highly trained and our content is independently regulated by IPSO to some of the highest standards in the world.
The dramatic events of 2020 are having a major impact on many of our local valued advertisers and consequently the advertising that we receive.
We are now more reliant than ever on you helping us to provide you with news by buying a copy of our newspaper.