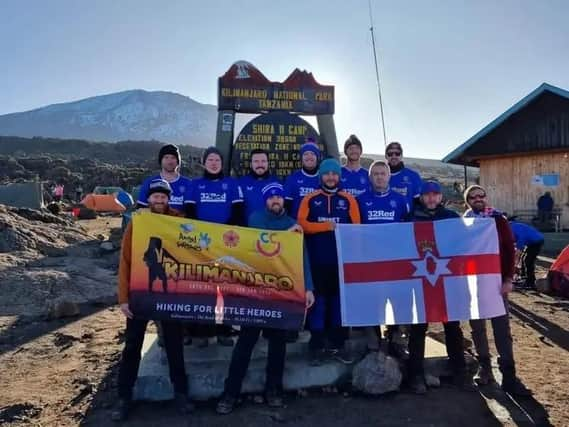 In a letter to the group of local Orangemen, Gers boss Michael Beale congratulated them on completing the "mammoth task" of climbing Kilimanjaro at the start of the year.
The Ibrox supremo said: "On behalf of the players and staff of Rangers Football Club, I would like to take this opportunity to congratulate every single one of you on this amazing achievement and send our very best wishes."
The Kilimanjaro team leader, Stuart Magill - an avid Rangers supporter - was understandably chuffed with the correspondence.
"We are thrilled to see our Hiking for Little Heroes challenge being recognised by Rangers FC," he said.
"We received a letter from Michael Beale over the weekend congratulating us on raising over £280,000 for children's cancer charities. The club also sent over two shirts signed by the full squad.
"Thank you to Carla Lockhart who made contact with Rangers to let them know about our challenge, and sent them photos of us on Kilimanjaro ready for the 'old firm' game."
The local MP commented: "Delighted to see the guys from Hiking for Little Heroes Kilimanjaro get this much-deserved recognition from Rangers FC - a club they all love.
"Very fitting for an absolutely phenomenal effort.
"It was a pleasure to play a small part in helping bring their endeavours to the attention of the leadership at the club."