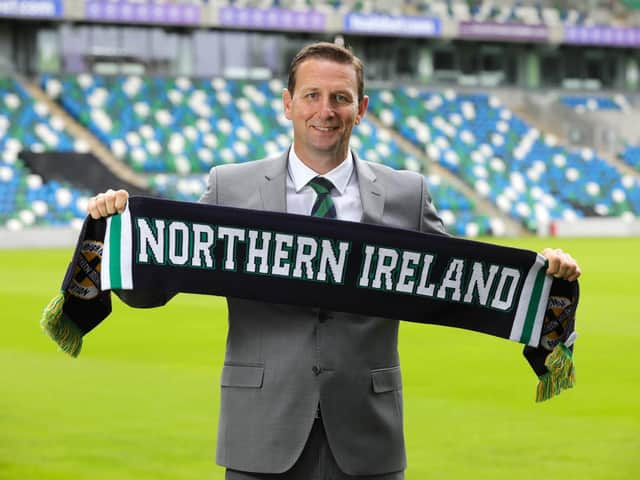 Northern Ireland manager Ian Baraclough.
In recent times the likes of James McClean, Shane Duffy and Darron Gibson have all switched allegiance and with the ex-Derry City gaffer a player and fans favourite in the Maiden City, more talented young players may join that list in favour to work with the Dubliner, who has also added another former Brandywell favourite Ruaidhri Higgins, to his back-room team.
In fact, one such player who has already done that is Dundalk's Michael Duffy, who worked under Kenny at Oriel Park, switched during Martin O'Neill's rein in charge.
"It's not a simple process and it's something we have to adjust to," he insisted.
"You want players to play for Northern Ireland but I'm also mindful of the fact players have got the right to play for either the north or the south. It is their choice.
"We want them to play for Northern Ireland, but it is a sensitive subject and I hope dialogue with players will find out if they want to play for Northern Ireland first and foremost.
"I think that's an area we are aware of, it's an area we have had to try and deal with as well in the past, but I'm keen on players making the decisions for the right reasons.
"Do they feel as though they are better off playing with Northern Ireland, do they see it as a pathway, but do they want to play for Northern Ireland is what I'm interested in and I think we have dealt well with it in the past and I think it's something that we have always got to be aware of and something that for me is important going forward.
"I speak to players and their representatives if you like and their family members and tell them this is the reason why I think Northern Ireland is a country you should be considering playing for, but I'm not going to get involved with the politics of it all, for me it's about the football and it's about people who want to play for Northern Ireland and that has got to come through to me."
Baraclough has insisted that September's Nations League double header against Romania and Norway, will not be used as 'warm-up' games for the crucial Euro 2020 play-off encounter against Bosnia.
"The Nations League was always going to be taken seriously," he explained.
"It's a competition we want to do well and it is important we do well in it because when the next qualifying campaign of the World Cup comes around, from the way you perform in the Nations League, might depend on what pot you get chosen from. Certainly with only one team to go through automatically from each group in the World Cup it is important we put ourselves in as good a position as possible and not to be drawn in the same pot as Holland and Germany like we were in the last campaign.
"The players will want to be involved against Bosnia and so they will have to perform against Romania and Norway."
As for that all important Euro 2020 playoff against Bosnia, Baraclough will leave no stone unturned when his side comes up against Edin Dzeko and Co.
"We've done a lot of work on Bosnia because we were planning to play them in March. I was part of that process and had discussions with Michael and the staff. I went out to Bosnia to have a look at the facilities and what we have available to us," he added.
"We know it is not going to be easy, we know it is a game we can go there with confidence and get a result and make sure we are playing at the National Stadium in November.
"We'll be ready for that but let us not get ahead of ourselves in respect of Romania and Norway. They are going to be two tough games. But once we get those done and dusted, out of the way, then we move on to Bosnia. But a lot of preparation has been done for that game.
"They have a new manager themselves (Bosnia) who hasn't managed for seven or eight years. What will he bring to the table with them? We'll have to have a look and see what they are doing in September as well."
The 49-year-old concedes managing his first game at Windsor Park, will be a special moment in his coaching career.
"That's the thing I've probably thought about more than anything else," he explained.
"For the Northern Irish public to be able to walk down the street, cross the bridge, get into the entrance, find the seat they normally sit on - that's the bit of normality of their life coming back again after this wretched period.
"We've obviously got to be mindful people have lost their lives around the world to this, but people do look at football as something that's their route to normality, whatever that looks like.
"To have a packed National Stadium at Windsor Park is something I can't wait for.
"Hopefully, that will be November, fingers crossed, and it's a play-off final; a winner takes all to get to the Euros, that would be immense."
Baraclough admits his management style will encourage players to voice an opinion and he'll be wanting his younger members of his squad to give their two-pennies worth during team meetings.
"First of all, I encourage players to come and speak to me, I want their opinions on things," he said.
"I have no problem leaving players out, and explaining why, and hopefully they see me as being someone who is approachable.
"I'm somebody who I think can get a plan across in a clear and concise way, and if someone is not clear about their role, then hopefully I'm approachable enough to come and knock on my door, speak to me and say 'I'm not quite sure, can you explain this or that'.
"With the U21s you've probably seen I've played in several different ways, whether it be four at the back, three at the back, two upfront, three upfront.
"I think we've developed certain ways of playing where the players understand if during a game you need to change, they have that knowledge and that confidence to go and do it with ease.
"I think it might be something that, you know, might take a little bit of time with some players but if everyone is open and honest with each other, it shouldn't take too long.
"For me, there's more than one way to skin a cat, you've got to be able to go and play a different way. If things aren't working during a game you have to be able to change things with players understanding what is needed, and that all comes down to communication.
"I think, the way I treat players, I treat them hopefully with respect, and indeed I feel that they should treat everyone else in the group with respect as well.
"It's something that's massive for me, I insist on having people who are good people. I've left out players from the U21s if I didn't feel it was quite right, even though they may possibly have been better players than those you're bringing in.
"But if you've not got the right attitude, if you've not got the right application, then you might struggle in one of my teams."
Despite working with O'Neill for a number of years, stepping into his shoes is something that the ex-Sligo Rovers boss is going to relish and isn't daunting by the task in hand.
"There are going to be many comparisons with other great managers but it is important I focus on the job ahead," he said.
"I'm not here to try and be Michael O'Neill. I'm not here to be a clone. It would be wrong of me to even attempt anything like that. I've obviously been chosen to lead the country because of what the Board sees in me.
"Hopefully they see someone who is meticulous in the way he works, also likes to have good relationships with players and gets the message across in a simple but clear way. And someone who has got the passion and fight to go on and energise the country and group of players to more glory. I've followed other managers who have been a success, I've built up experience over the years, you learn how to handle certain situations and taking over this role is not daunting to me.
"I know it is a challenge but I don't fear it and it is one I am looking forward to immensely."
Earlier in the week Baraclough appointed former midfielder Damien Johnson to his back-room and will speak to former GAWA greats Aaron Hughes, Gareth McAuley, Chris Brunt and Chris Baird about possibly bringing them into the set-up.
"I haven't spoken to any of them that you have mentioned as yet but I did text Gareth a few days ago. It is something I am very keen to do to keep those relationships with those players. Aaron was in the group when I came in," he said.
"The amount of knowledge and experience that they could pass on to younger players and I am sure as the job evolves and as we try and evolve the IFA if players like that if they feel that is the route they want to go down we are totally open to them working with us. Having been fresh from playing they have to decide for themselves.
"Aaron was on a call with the IFA the other day with the staff and he was talking about not knowing which way to go. He is having a little bit of time off with the family but does he enjoy coaching, does he want to go into more of a Director of Football type role.
"They have to make sure if coaching is the right thing for them to do, go out get that relevant amount of experience and we will try and help them along the way."